LOL: Watch The 'A Star Is Born' Trailer Again, This Time With Kermit The Frog And Miss Piggy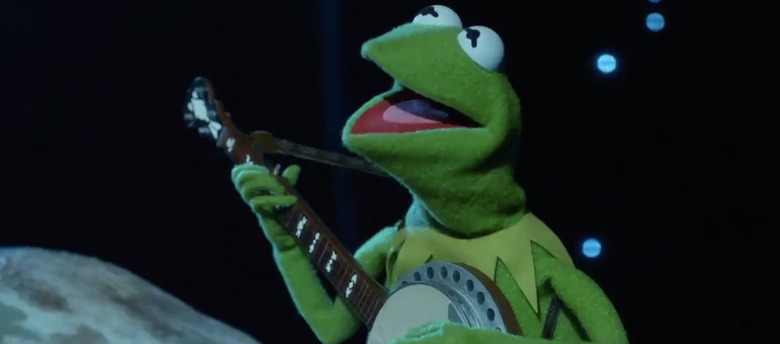 If you're seeing a lot of movies in theaters, then there's a good chance that you've already watched the same trailer for A Star Is Born dozens of times by now. Either that or you're starting to see two different shorter trailers before movies that play out like clips with mini trailers attached to them. No matter which you've seen, we promise that you haven't seen the best version yet.
Some genius took the audio from A Star Is Born trailer, including Bradley Cooper's gruff voice and Lady Gaga's long notes, and set it to footage of Kermit the Frog and Miss Piggy from all of The Muppets movies over the years. It's amazing how perfectly their relationship fits the vibe of the trailer for A Star Is Born, and now this is the only version of the movie we want.
The Muppets A Star Is Born Trailer
Wow ANOTHER remake? pic.twitter.com/3eKheaY1OY

— Kevin T. Porter (@KevinTPorter) September 19, 2018
Somehow the trailer for A Star Is Born packs an even greater punch with Kermit the Frog and Miss Piggy at the center of the story. Maybe it's because they've been in our hearts so much longer than Bradley Cooper and Lady Gaga.
But even so, A Star Is Born looks fantastic, and the early buzz echoes those sentiments, especially with regards to the sizzling chemistry between Bradley Cooper and Lady Gaga. Our own Chris Evangelista noted in his review from TIFF:
Like a catchy cover of a classic tune, A Star is Born manages to make the old seem new again. You know the story – and you should, because this is a remake of a remake of a remake. And yet, director Bradley Cooper keeps it fresh. He has a lot of help, primarily from Lady Gaga, who blows the fucking roof off this joint from the get-go, coming out strong and never once letting up.
Sadly, we'll never see this version of A Star Is Born, but at least we have The Muppets movies to get us close.