'The Handmaid's Tale' Director Reed Morano Just Signed An Exclusive TV Deal With Amazon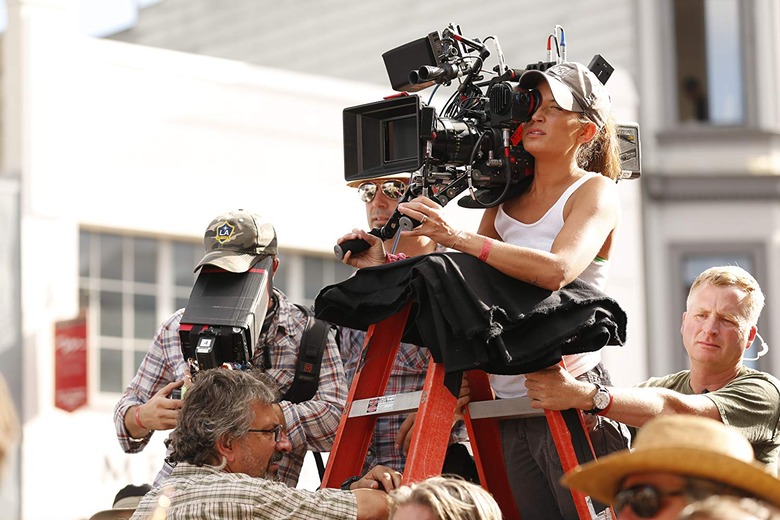 Reed Morano may have just made her long-awaited return to feature filmmaking, but she's heading right back to the small screen.
The Emmy-winning director of The Handmaid's Tale has just signed an on overall deal with Amazon Studios to exclusively create original TV series, adding to Amazon's increasingly impressive catalogue of filmmakers set to make original content for its service.
Digital streaming services are making major gains at the Emmys, including Amazon, which just won its first Emmy for Outstanding Comedy earlier this week. But that's not enough for the service, which, like all its other competitors in the digital content field, is looking to expand dramatically (in both senses of the word). So Amazon's new deal with Reed Morano may give Amazon the push it needs.
Vulture reports that Morano has signed an overall deal with Amazon Studios to create original series for the network. The director is about to release the apocalyptic drama I Think We're Alone Now, which won the Special Jury Prize for Excellence in Filmmaking at the 2018 Sundance Film Festival, but the biggest credit on her resume is still Hulu's The Handmaid's Tale, for which she won an Emmy and a DGA Award for directing the pilot. And while Amazon may have swept the comedy categories at the Emmys this year, it's Hulu that holds the honor of being the only streaming network to win an Emmy for Outstanding Drama. Morano is a great get for Amazon which, under new studio head Jennifer Salke, has also landed first-look deals with talent like Jordan Peele and Nicole Kidman.
In a statement following the announcement of Morano's Amazon deal, Salke said:
"Reed is a creative powerhouse whose distinct point of view shines through her immersive, emotional storytelling and commanding cinematic style. We're honored to partner with her to exclusively create originals for the global Prime Video audience."
"I'm thrilled to be working with the pioneers at Amazon," Morano added. "Jen Salke is known for elevating content and her unwavering support for the filmmaker's vision. We share the same passionate enthusiasm for breaking the mold with provocative storytelling, and I couldn't be more excited about what we've been planning to create together."
Morano was a pivotal force in crafting The Handmaid's Tale's signature ghostly aesthetic, which continues to stun every episode even when the writing wavers. Morano, who began her career as a cinematographer and made her feature directorial debut with 2015's Meadowland, continues to be one of the most promising directors working today, even getting rumored to be attached to a Star Wars movie for a bit. With Amazon backing her, I can't wait to see what she has in store for a television series, which could be anything from a drama to another high-concept sci-fi series.