Watch: The 'Captain Marvel' Trailer Recut In Chronological Order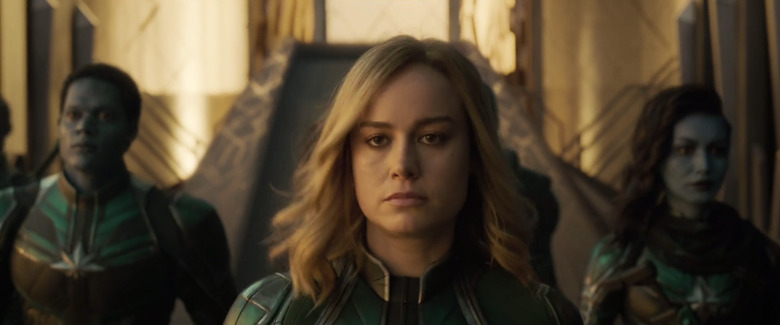 Yesterday, Disney and Marvel released the first trailer for next year's highly-anticipated Captain Marvel, the first Marvel Studios film to feature a solo female lead. We took a close look at it in our trailer breakdown, but one fan went above and beyond and re-edited the entire thing into what they think is chronological order – not the order in which events will unfold in the movie, but rather tracking Carol Danvers' (Brie Larson) journey from childhood into ultimately becoming one of the most powerful characters in the Marvel Cinematic Universe.
But here's the most obvious, most important question that emerges from all of this: where does "punching an old woman in the face" fall on Carol's timeline? You'll have to watch the Captain Marvel chronological re-edit to find out.
Like The Incredible Hulk and Spider-Man: Homecoming before it, Captain Marvel will not feature a traditional origin story for its title hero. Instead, we'll meet Larson's Carol Danvers as a super-powered being when the movie begins, and then flash back to important events in her life later. The structure of the official trailer hints at the way the movie might unspool its information, but a YouTuber named "Zorklis" (via CinemaBlend) recut the trailer into what they estimate will be the linear order of Carol's life:
Question answered: the one minute and six second mark is when Carol punches an old woman in the face. (The elderly recipient of Carol's wrath is almost certainly a Skrull – a shape-shifting alien being. If she's not, Marvel is going to have a lot of explaining to do.)
This video seems like a good guess as to the exact order of when these events occur, many of them in the 1990s. And while we're talking about the timeline, it's worth bringing this tweet from Moviebill senior editor Silas Lesnick to your attention:
There's also a fan theory going around that suggests at least part of this movie could take place at the same time as the Phoenix Lights, a series of unexplained UFO sightings that happened in March of 1997 over the American Southwest.
Here's the movie's official synopsis:
The story follows Carol Danvers as she becomes one of the universe's most powerful heroes when Earth is caught in the middle of a galactic war between two alien races.  Set in the 1990s, "Captain Marvel" is an all-new adventure from a previously unseen period in the history of the Marvel Cinematic Universe.
Captain Marvel opens on March 8, 2019.