'Prospect' Trailer: A Treasure Hunt On A Remote Alien Moon Goes Horribly Wrong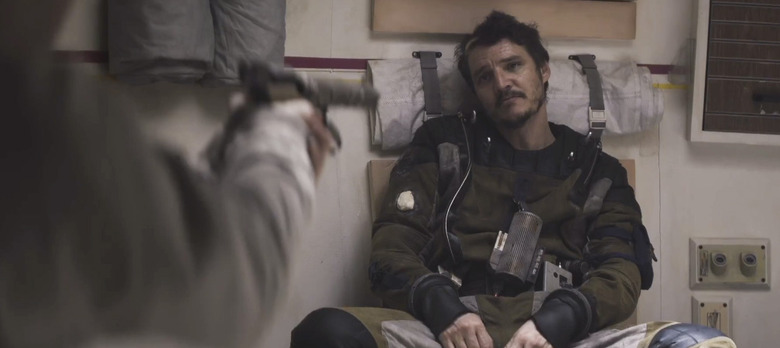 After playing the SXSW Film Festival earlier this year, the indie sci-fi project Prospect from Gunpowder & Sky's sci-fi label DUST is finally coming to theaters and VOD.
Prospect follows a father and daughter (Jay Duplass and Sophie Thatcher) who venture out for some valuable gems on a remote alien moon but soon find they aren't the only ones trying to track down the profitable items. A deadly man (Pedro Pascal) is roaming the planet and makes it significantly more difficult for them to pull off their job. You couldn't ask for a more blatant sci-fi western than the one on display in the Prospect trailer.
Watch the Prospect Trailer
This look absolutely fantastic, which is probably why our own Jacob Hall called Prospect the "best indie science fiction movie since Moon." That's high praise, and if you need any further convincing, our review also notes:
"Prospect is the kind of science fiction movie we need to see more often, told by filmmakers who don't allow the vastness of their vision to get beaten down by the scope they're able to work within. It's an enthralling tale of trust, survival and redemption set in a universe that demands additional exploration."
Indeed, this trailer alone promises a lived-in sci-fi landscape, not unlike Alien, District 9 and the original Star Wars. Retro-style technology gives the impression of a 1970s sci-fi world brought to life, and it makes me wish these were the kind of stories that would be used under the Star Wars Story label.
Behind the scenes the movie was crafted in quite the unique fashion as well. Writers/directors Zeek Earl and Christopher Caldwell employed the use of medieval era instruments for the soundtrack, rehouses vintage Russian lenses for cameras and use space suits inspired by real space travel. Personally, I can't wait to see how all these elements come together when the film arrives later this year.
Here's the official synopsis for the movie:
A teenage girl and her father travel to a remote alien moon, aiming to strike it rich. They've secured a contract to harvest a large deposit of the elusive gems hidden in the depths of the moon's toxic forest. But there are others roving the wilderness and the job quickly devolves into a fight to survive. Forced to contend not only with the forest's other ruthless inhabitants, but with her own father's greed-addled judgment, the girl finds she must carve her own path to escape.
Prospect will be exclusively released in Regal Cinemas locations nationwide staring on November 2, 2018 followed by a digital premiere on SingularDTV's blockchain-enabled VOD platform in 2019.