Video: Watch How Skywalker Sound Used A Bear For Chewbacca's Voice In 'Solo: A Star Wars Story'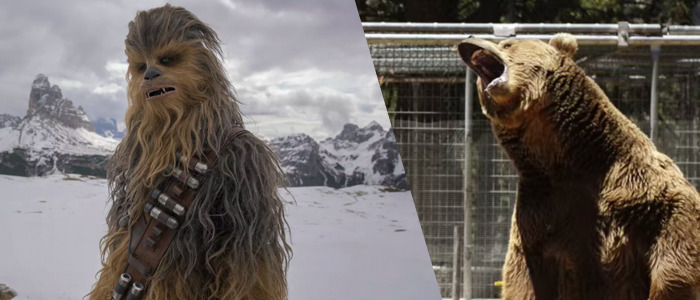 Chewbacca has always been a supporting player in the Star Wars universe, but in this year's Solo: A Star Wars Story, he was promoted to one of the primary protagonists. As a much more involved character, he needed a larger range of vocal noises here than in any previous film, so the team at Skywalker Sound set out to capture some animal noises that would provide the basis for the Wookiee's voice in the new movie.
In a new behind-the-scenes video, you can watch the sound team recording growls from a bear and a seal to pump up Chewie's vocabulary. Plus, we have a few more bonus features, including a look at Phoebe Waller-Bridge's L3 droid costume and screenwriters Lawrence and Jon Kasdan talking about working with each other on the movie.
Team Chewie
That seal, hilariously bellowing directly into the microphone, should be the star of his own movie franchise. What a glorious creature. Hollywood, make it happen!
Of course, the animal sounds aren't just dropped in to serve as Chewie's vocals – artists manipulated the sounds to reflect what we know Chewbacca's voice sounds like. What a cool job.
L3's Costume
Phoebe Waller-Bridge's revolutionary droid L3-37 was one of the highlights of Solo, a film that missed the mark in many areas. But Waller-Bridge's physicality and humor was a bright spot, and this featurette shows how the visual effects crew, the costume team, and the actress collaborated to bring that character to life.
Kasdan on Kasdan
And finally, here's a clip of the two screenwriters – father and son – talking about their unique collaboration. I especially enjoy the moment when Jon explains how Lawrence is a purist and despite the fact that he's written a high percentage of Star Wars films, there are still huge chunks of the mythos he doesn't know about. I can't imagine Kasdan sitting through the prequels or settling in to a marathon of The Clone Wars, so it's not surprising to hear he's not completely up on all of his Star Wars lore.
To watch more of the movie's bonus features, click here and here, and don't forget to check out our interviews with the two actors who bring the villainous character of Maul to life: Ray Park and Sam Witwer.
Solo: A Star Wars Story is available for purchase on Digital HD right now, and the movie comes to Blu-ray and DVD on September 25, 2018.