New 'How To Train Your Dragon 3' Details Tease Flashbacks, A Bittersweet Farewell & Much More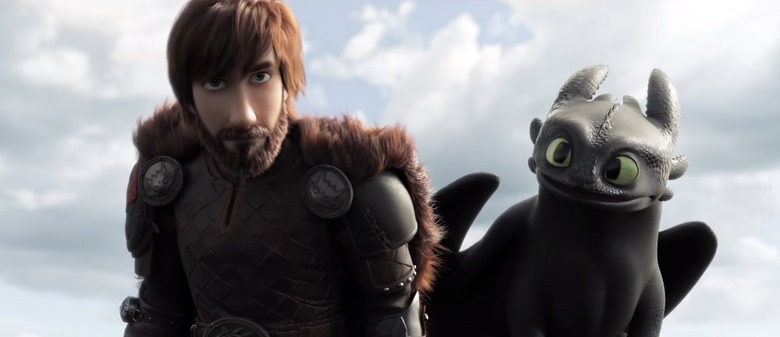 Next spring will bring the third installment of DreawmWorks Animation's strongest franchise with How to Train Your Dragon: The Hidden World, and a bunch of new details have arrived to shine a light on the final journey of Hiccup and his trust dragon, Toothless.
Find the new How to Train Your Dragon 3 details below.
Where Have All the Dragons Gone?
So far, the franchise has seen Hiccup (Jay Baruchel) and the Night Fury dragon known as Toothless help bridge the existence of humans and dragons so that each can benefit from each other instead of senselessly fighting and fearing one another. During that time, he's also struck up a budding romance with fellow Viking villager Astrid (America Ferrera), lost his father Stoick the Vast (Gerard Butler) and found his estranged mother Valka (Cate Blanchett), who had his same gift for befriending dragons.
However, it sounds like the core relationship between dragons and humans will see a drastic change when all is said and done at the end of this closing chapter. Speaking to Entertainment Weekly, director Dean DeBlois explains:
"We thought about it for a long time and came up with what we think is a bittersweet way to say goodbye to these characters, but the right way. You will understand why Hiccup says, as you heard in the trailer, 'There were dragons when I was a boy.' And by the end of this film, you'll have answered the question [of] what could have happened to them."
Honestly, I never even registered that line as dragons being gone in whatever time Hiccup is speaking from. But perhaps these Vikings realize that dragons deserve a life in the wild in whatever the titular hidden world might be instead of co-existing alongside humans.
Setting the Stage for The Hidden World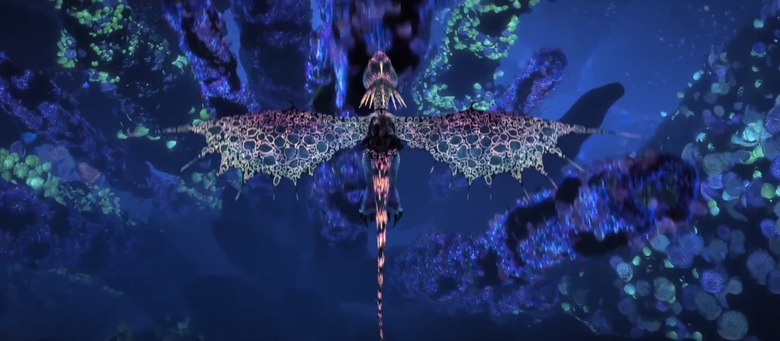 How to Train Your Dragon 3 has been given the subtitle of The Hidden World, but how has this place gone unnoticed for so long? Well, as the sequel will reveal, this location has become more myth than anything. In a flashback sequence, we see Stoick the Vast return as he tells a story to a toddler Hiccup describing some kind of secret home to dragons that is "hidden behind a great waterfall somewhere at the edge of the world."
Since this is set in the past before the Vikings knew how friendly the dragons could be, Stoick's dream was to seal the world off from ours so that humans and dragons would no longer pose a threat to each other. However, Hiccup recalls this story and thinks that maybe this could be a place where humans and dragons can peacefully co-exist without any outside forces to threaten them. And as we'll find out in How to Train Your Dragon 3, there's one major new threat that forces this hopeful plan.
A New Villain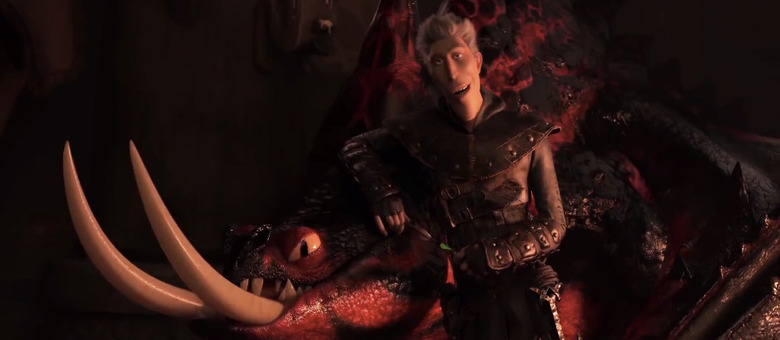 Now that Hiccup has shown Vikings that dragons and humans can co-exist, there's thriving metropolis full of them working together in harmony. The dragon population only keeps growing because Hiccup has taken it upon himself to keep rescuing them from trappers. But one of those trappers is becoming a little more aggressive in his efforts to track down dragons.
Grimmel is the new villain on the scene. Voiced by F. Murray Abraham, this dragon trapper is perhaps the most notorious of them all, and his past holds the answer to why Toothless is the only remaining Night Fury. It's likely that Grimmel is responsible for wiping out all of the other Night Fury dragons, maybe even Toothless' parents, but that's just speculation on my part.
***
As for the rest of the details on How to Train Your Dragon: The Hidden World, you can find out more from Entertainment Weekly, who caught a preview of footage at the Toronto International Film Festival. But fans should prepare for an emotional goodbye to these characters. As director Dean DeBlois notes:
"The overall theme of the story is letting go, or finding the wisdom to let go, rather. So much of Hiccup's identity, as a leader and an adult, is because of his relationship with Toothless. But if Toothless is not there, who is Hiccup?"
We'll get the answer to that question when How to Train Your Dragon: The Hidden World arrives on March 1, 2019.