Tenacious D Animated Series Is Premiering At Fantastic Fest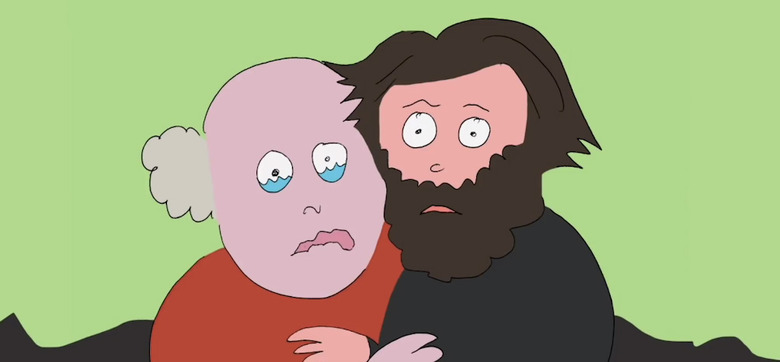 Fantastic Fest is chock full of wild and crazy genre movies, but it's also host to a showcase of short films and other assorted oddities, and one of them should certainly have Tenacious D fans excited.
Today, the third wave of programming for Fantastic Fest was announced, and one of the surprise additions to the line-up is a six-part animated series called Tenacious D in Post-Apocalypto. That's right, Jack Black and Kyle Gass are getting animated again as the dynamic duo responsible for defeating the devil with rock and writing a tribute to the greatest song in the world.
Find out more about the Tenacious D animated series below.
Fantastic Fest made the announcement today with the promise of Tenacious D being live at the festival for the premiere, which includes a special live performance after the screening that "will shake the pillars of the universe." So what exactly is this animated series about? Well, it sounds very metal and very much in the vein of Tenacious D.
The official logline for the Tenacious D animated series says it finds the duo "thrust into a world of complete and utter destruction! See them battle for the survival of the human race." What makes this animated series even more intriguing is it was apparently hand-drawn by Jack Black himself. Frankly, I had no idea that Jack Black was a cartoonist and was skilled in animation.
Well, it appears that Jack Black isn't skilled in animation at all, and this is meant to be more of a kitschy kind of project. Here's a teaser that surfaced a week ago in conjunction with Tenacious D's new album Post-Apocalypto, which will surely be part of this animated series:
Will the entire series be like this? It would seem so since it's hand drawn by Jack Black. It's certainly odd, and it's nowhere near the level of cartoon quality we've seen from Tenacious D before. But maybe it will still end up being funny?
Not too long ago, Jack Black told a concert crowd at the Shaky Knees Music Festival in Atlanta, Georgia that there was another Tenacious D movie coming sometime in October. At the time, he didn't provide anymore specific details, but we're inclined to think this might be the project he was talking about. Then again, maybe there's a whole separate Tenacious D project they've been working on.
Honestly, I've been a fan of Tenacious D for a long time now. Even the box office bomb Tenacious D in the Pick of Destiny brought me a fair amount of joy, if only because I love the soundtrack so much. An animated series starring the musical duo sounds like a real treat, and hopefully it already has a deal for distribution to follow this premiere at Fantastic Fest. Stay tuned for all our coverage from the festival right here when it kicks off on September 20 in Austin, Texas.
The Final Wave of Fantastic Fest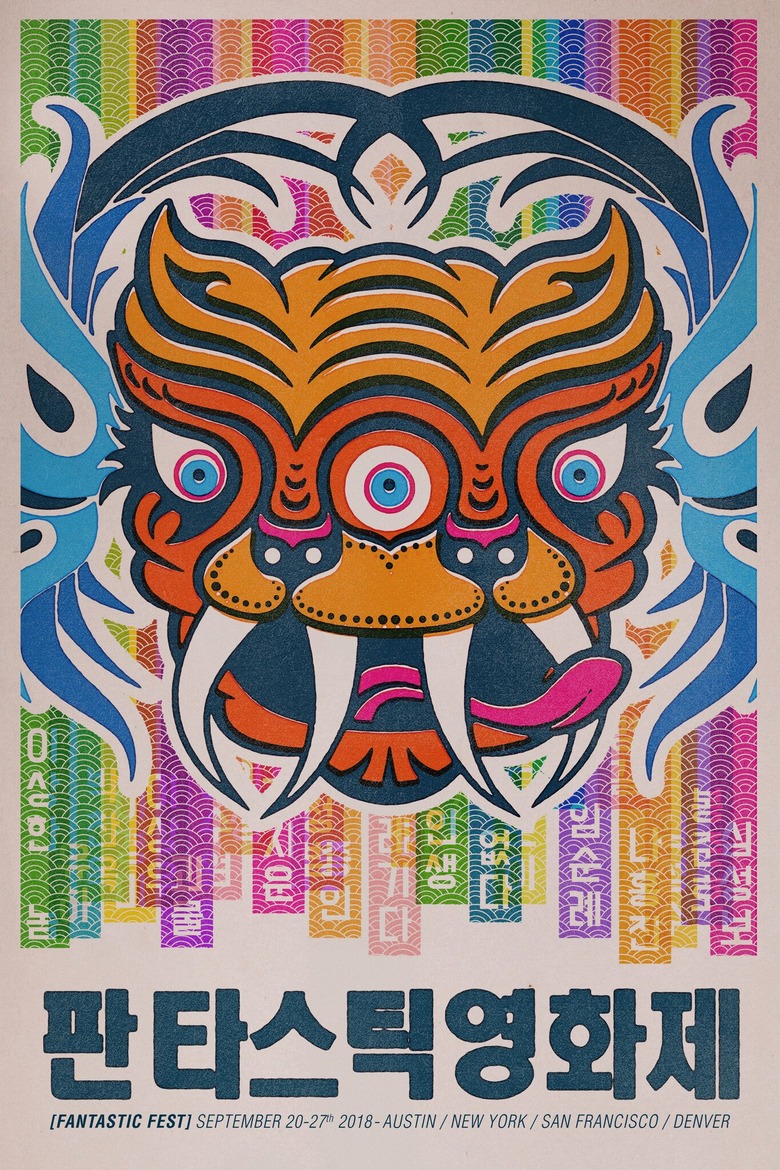 For those interested, here's the full press release announcing the third and final wave of programming for Fantastic Fest, which includes the likes of Drew Goddard's Bad Times at the El Royale, Nicole Kidman in Destroyer, Terry Gilliam's The Man Who Killed Don Quixote, Jonah Hill's Mid90s and much more. Get the rest of the titles below:
Fantastic

Fest

promises an explosive grand finale with the Texas Premiere of Drew Goddard's outrageously entertaining mystery-thriller BAD TIMES AT THE EL ROYALE. Seven strangers, each with a secret to bury, meet at Lake Tahoe's El Royale, a rundown hotel with a dark past. Over the course of one fateful night, everyone will have a last shot at redemption... before everything goes to hell. Jeff Bridges, Chris Hemsworth, Jon Hamm, Dakota Johnson and Cynthia Erivo lead an all-star cast in BAD TIMES AT THE EL ROYALE.
Karyn Kusama will be in attendance alongside screenwriter/producer Phil Hay to present their gritty noir thriller DESTROYER starring Nicole Kidman in an astonishing role as detective Erin Bell, as well as the U.S. Premiere of Jonah Hill's directorial debut MID90S with the writer/director Jonah Hill in attendance.
Also debuting at the festival is the North American Premiere of Terry Gilliam's long awaited THE MAN WHO KILLED DON QUIXOTE, with Adam Driver as the world-weary ad man taken on a fantastical journey by Jonathan Pryce's Don Quixote. And David Robert Mitchell's Cannes sensation slacker-noir UNDER THE SILVER LAKE, starring Andrew Garfield and Riley Keough, will have its U.S. Premiere at the Festival.
Fantastic
Fest
deepens its cornucopia of genre titles from across the globe, including the World premiere of Quarxx's visually hypnotic ALL THE GODS IN THE SKY, the International premiere of Polish-children-vs-rabid-dogs thriller WEREWOLF, and the North American Premiere of Venice Critics Week closer DACHRA, the first-ever horror film to come out of Tunisia.
Further additions to the program include the World Premiere of the new thrill ride from Nicolas Cage and Franka Potente, BETWEEN WORLDS, the World Premiere of the brilliant documentary AFTER THE SCREAMING STOPS about the iconic '80s musicians Matt & Luke Goss and the band Bros, and the U.S. Premiere of the terrifying frontier horror masterwork THE WIND.
"2018 has been one of the most challenging programs to put together for
Fantastic
Fest
, with a plethora of quality titles turning up at every stage," said
Fantastic
Fest
Creative Director Evrim Ersoy. "Even as we try to lock our program, we are confronted with brilliant, outstanding cinema and are determined to cram all of it into our program and dazzle Austin."
With HALLOWEEN debuting on opening night, it was inevitable that we'd champion the most important of all holidays with an omega-powerful Halloween-themed costume/music/sugar/dance party. Candy buffet! Apple bobbing! Ghoulish bands! And more more will shake the walls of The Highball, with legitimately major prizes given out for the best and most horrific outfits, so dress to distress!
Tenacious D will appear IN PERSON (!!!) at the festival to premiere their six-part animated series TENACIOUS D IN POST-APOCALYPTO, hand drawn by none other than Jack Black himself! True to its title, the series finds Tenacious D thrust into a world of complete and utter destruction! See them battle for the survival of the human race! Then watch them perform LIVE in a post-screening pre-apocalyptic music set that will shake the pillars of the universe!
The Miskatonic Institute of Horror Studies will be at hand at this year's
Fantastic
Fest
to present a one-off special lecture by academic and scholar Alexandra Heller-Nicholas titled "Ghouls to the Front: Rethinking Women's Horror Filmmaking" where she will be exploring examples from around the world from 1898 to 2018 of women's horror filmmaking finding ways we can collectively rethink the history of horror more broadly to be more inclusive, more representative, and more fun.
Fantastic
Fest
is also delighted to announce the Jury Presidents for the four competition categories for the 2018 edition of
Fantastic
Fest
. Co-president and co-founder of Sony Pictures Classics Michael Barker will be overseeing the Main Competition Jury, academic and writer Alexandra Heller-Nicholas will be the head of Horror Competition Jury, Toronto International Film Festival programming associate Dorota Lech will lead the Next Wave Jury, and director/animator Don Hertzfeldt will be heading the Shorts Competition Jury. Further details can be found at:
https://

fantasticfest

.com/jury
.
Fantastic
Fest
is also happy to announce the addition of Maya Perez to its advisory board. Maya Perez is a writer and producer. Her work has appeared in Electric Literature, The Masters Review, Misadventures Magazine, and she is co-editor of the books
On Story – Screenwriters and Their Craft
,
On Story – Screenwriters and Filmmakers on Their Iconic Films
, and
On Story – The Golden Ages of Television
, all from the University of Texas Press. She is also a producer on the television series
Austin Film Festival's On Story
, now in its eighth season on PBS. Maya is a 2018 recipient of a SFFILM Westridge Grant and teaches screenwriting at the University of Texas at Austin.