'Private Life' Trailer: Paul Giamatti And Kathryn Hahn Are Desperate To Have A Kid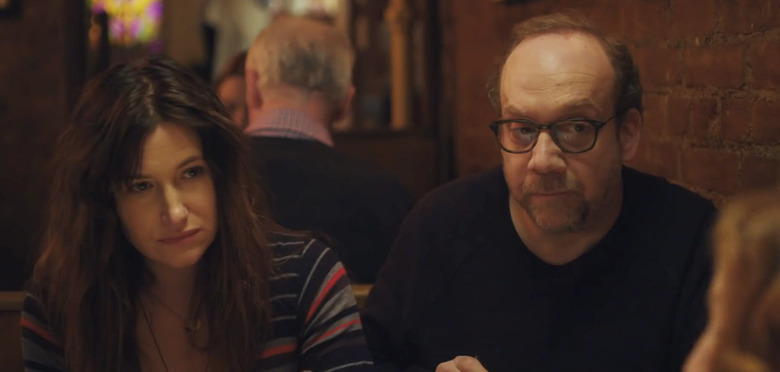 Being a parent is hard. But for some couples, the real difficulty is getting the opportunity just to have a kid. That's exactly the struggle that Paul Giamatti and Kathryn Hahn face as a fortysomething couple living in a rent stabilized apartment in New York City doing everything they possibly can to have a child. But there's one avenue that they're exploring for the first time, and it just might create a challenge for their whole family.
Watch the Private Life Trailer
Rachel (Hahn) and Richard (Giamatti) are an artsy couple living in an apartment in the East Village in New York City. She's a successful author, and he's a former theater director who has been away from the stage for years. After attempts at in vitro fertilization come up short, they start to explore the possibility of having an egg donor, and the perfect person to help them out might be their step-niece, Sadie.
This trailer for the Netflix release of this film, which played at Sundance earlier this year, paints a little bit more of an upbeat and quirky tone for the movie, but it's consistently more somber than the trailer would have you believe. Thankfully, it's never overly dramatic thanks to the stellar performances from Giamatti and Hahn. As I wrote in my review from Sundance:
Kathryn Hahn continues to be one of the best actresses working today. Her quiet, contemplative pain comes through in even the most subtle of expressions, but she also lets loose fierce emotions when Rachel just can't take it anymore. The chemistry she has with Paul Giamatti is undeniable as the two genuinely feel like a couple who loves each other, especially through the tearful, intimately awkward fights. Giamatti also shines as a husband who wants to do everything he can in order to realize their dream of having a child, but also shows shines of wear at the ongoing process and endless failures. The authenticity of their relationship during such a tumultuous time cannot be understated.
Of course, there's laughs to be had here and there, especially with the blunt, intelligent observations that come from their witty niece, played impeccably in a breakthrough performance by Kayli Carter. But the film as a whole is much more of a quiet presentation of the emotional struggle of trying to conceive by any means necessary.
Here's the official synopsis from the film's debut at Sundance earlier this year:
Rachel (Kathryn Hahn) and Richard (Paul Giamatti) have been repeatedly trying to get pregnant, undergoing multiple fertility treatments while also exploring adoption and other options. As they hit obstacles and face up to the reality of their chances, their strained marriage seems to be further than ever from completing the elusive path to parenthood. An unexpected Hail Mary arrives in the form of their step-niece Sadie (Kayli Carter), a recent college dropout who crashes on their couch and might just prove to be the last, unconventional piece of their fertility puzzle.
Private Life hits Netflix on October 5, 2018.