'Fantastic Beasts: The Crimes Of Grindelwald' Audiobook Will Dive Into The Making Of The Fantasy Sequel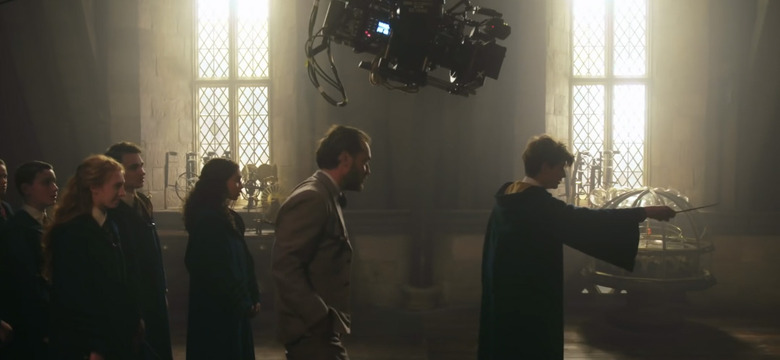 Whenever a new blockbuster movie comes along, there are always plenty of featurettes that take you behind the scenes and usually an accompanying book that dives into the concept art created during development and pre-production. But the next Wizarding World sequel will take that to a new level.
Audible is teaming up with Pottermore and Warner Bros. Pictures to release an audiobook called Fantastic Beasts: The Crimes of Grindelwald – Makers, Mysteries and Magic, which will dive into the making of the Harry Potter spin-off sequel due in theaters this fall. And to make the experience that much more immersive, it will feature the voices of the film's cast. Find out more below.
Making of Fantastic Beasts Audiobook
Written by documentary maker Hana Walker-Brown and journalist Mark Salisbury, and produced by Pottermore Publishing with Audible Originals and Warner Bros. Consumer Products, the book will pull back the curtain on the blockbuster film. Franchise co-star Dan Fogler, who also happens to be a Tony winner, will narrate the book, but he won't be alone on this one.
Cast members Eddie Redmayne (Newt Scamander), Jude Law (Albus Dumbledore), Zoë Kravitz (Leta Lestrange), and Ezra Miller (Credence) will also be lending their voices to the book, and here's what they'll each bring to the table:
Eddie Redmayne (Newt Scamander) describing how this film is a 'different beast' in terms of its pace, direction, and stakes, and discussing the development of his character in relation to a whole host of new cast members.
Jude Law (Albus Dumbledore) on portraying a younger Dumbledore.
Zoë Kravitz (Leta Lestrange) discussing her character, revealing insights into the Lestrange family.
Ezra Miller (Credence) and new cast member Claudia Kim (the Maledictus) exploring their characters' complex journeys and the intense bond they share.
Meanwhile, the rest of the book will also feature extensive access to the film's director and producers as Dan Fogler takes listeners on a tour around Leavesden Studios, checking out rehearsals, production workshops, the creation of 1927 Paris. We'll also learn about the making of new wands, why puppeteers perform on set with the key cast members, and hidden details and artistic references in the iconic wizarding world wardrobe designs.
This all sounds fascinating and fantastic, but at the same time, so much of what's interesting about the making of the movie is being able to actually see behind the scenes. So part of me wishes this was just a full fledged documentary production instead of an audiobook. But surely this is a cheaper way to provide a glimpse behind the scenes.
You can pre-order Fantastic Beasts: The Crimes of Grindelwald – Makers, Mysteries and Magic exclusively at Audible right now, and the book will be released on November 16, 2018, the same day the movie hits theaters. Watch the most recently released trailer right here.