Watch Two 'Solo: A Star Wars Story' Deleted Scenes, Ray Park Talk More About Maul's Cameo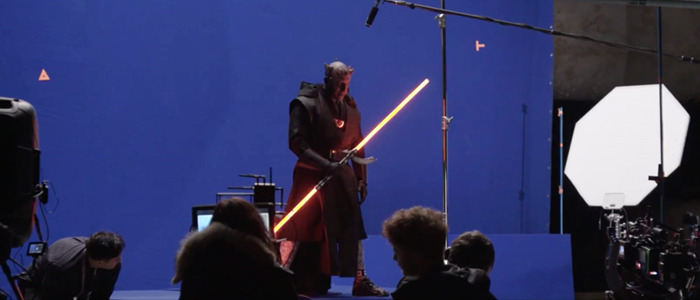 Solo: A Star Wars Story arrives on digital home video this week, so some of its bonus features are beginning to make their way online. We have two Solo deleted scenes for you to watch below: one features Han Solo facing the consequences of crashing a TIE Fighter, and the other involves Han and Chewie getting in a snowball fight. Plus, actor Ray Park talks more about his top-secret cameo as Maul.
Solo Deleted Scenes
This video shared by
shows Alden Ehrenreich's young Han (I can't bring myself to refer to him as "Solo" now, knowing
the idiotic way he got that name
) as he crashes a TIE Fighter into an Imperial ship and then faces down a tribunal to account for his actions. It's a glimpse into the brash, cocky pilot Han eventually becomes, but it's a perfect example of the type of scene that can be excised from a movie without a detrimental impact on the story. You can read more about the scene
.
Next up, Lucasfilm's official YouTube series The Star Wars Show has a deleted scene that begins at the 8:13 mark featuring a snowball fight on a mountaintop on Vandor between Han and Chewbacca (Joonas Suotamo) as Woody Harrelson's Beckett watches with disdain. Internally, the /Film staff members were trying to figure out when this scene would have taken place. It couldn't have been after the train robbery because (spoilers ahead) Thandie Newton's Val and Jon Favreau's Rio would be dead at that point, and the guys messing around in the snow wouldn't match the somber tone they should have. I suppose it could have happened before the campfire scene, but the more likely option seems to be that it could have happened when they were moving into position before the heist.
If you're looking for even more Solo deleted scenes,
, which features a foot chase on Corellia with Han and Emilia Clarke's Qi'ra.
Also, actor Ray Park joined the show to talk more about playing Maul in Solo: A Star Wars Story, reprising that part for the first time in nearly 20 years. /Film spoke to Park last week about the same topic, so be sure to
check out our conversation if you haven't already
. (He also taught me some lightsaber moves.)
Solo: A Star Wars Story arrives on Digital HD on September 14, 2018, and it comes to
on September 25, 2018.