'Ralph Breaks The Internet' Is Getting A Hyper-Reality VR Experience This Fall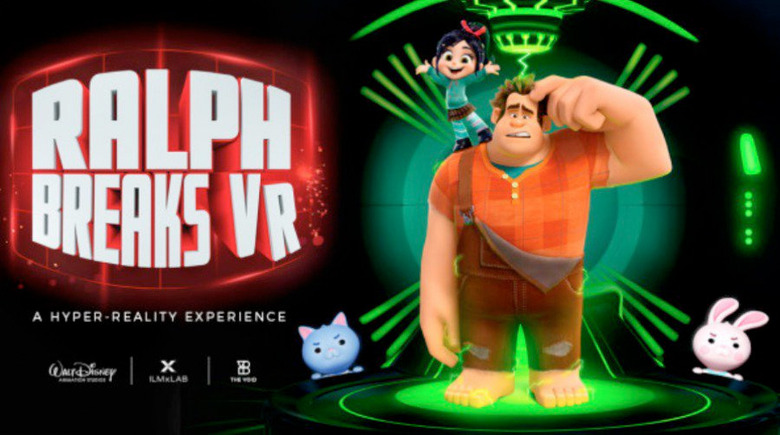 Disney and Lucasfilm's ILMxLAB previously teamed up with The VOID to launch the hyper-reality experience known as Star Wars: Secrets of the Empire. The VR project puts fans in the middle of the Star Wars universe at select locations around the United States. Now, one of Disney's animated franchises will be following in those same virtual footsteps.
Ralph Breaks the Internet will take the not-so-bad video game bad guy Wreck-It Ralph into the internet for the first time, and in the same vein, Disney will put Ralph Breaks VR in front of your eyeballs. The new multi-sensory Disney adventure will put fans inside the worlds of the internet and online gaming alongside Ralph and his candy-haired companion, Vanellope Von Schweetz. Find out more about the Wreck-It Ralph VR project below.
Previously, we heard that a Wreck-It Ralph VR ride was in development for Disney Parks and that it might replace Stitch's Great Escape! in Magic Kingdom's Tomorrowland. Rumors pegged the experience as being a go-kart motion-simulator centered around the Sugar Rush video game from the first Wreck-It Ralph movie. But this sounds like something completely different.
Ralph Breaks the Internet producer Clark Spencer (via Disney Parks) says :
"Our filmmakers and the terrific people at ILMxLAB have collaborated to bring an incredible hyper-real experience, for all ages, to The VOID. We can't wait for people to be immersed in the worlds of the internet and online gaming with Wreck-It Ralph and Vanellope."
If the experience will immerse fans in the worlds of the internet and online gaming, this sounds like a much more immersive experience that will allow world-exploring rather than being based on one part of Wreck-It Ralph. But even so, it wouldn't be surprising if there are elements shared between these two VR style projects since they're both bringing the worlds of this film franchise to life.
Virtual reality sounds like it could be a key part of theme park rides in the future by helping immerse fans of any given property into the world of their choosing. Of course, it likely won't replace the traditional theme park experience since there's something magical about having that world surround you in a tangible way.
Unfortunately, further details are under wraps for the time being, including the exact launch date, locations and availability. But if you can't wait to get a taste of this kind of immersive VR experience, you can still check out Star Wars: Secrets of the Empire at several locations around the United States right now.