'The Ballad Of Buster Scruggs' Trailer: Joel & Ethan Coen's Western Anthology Is Coming To Netflix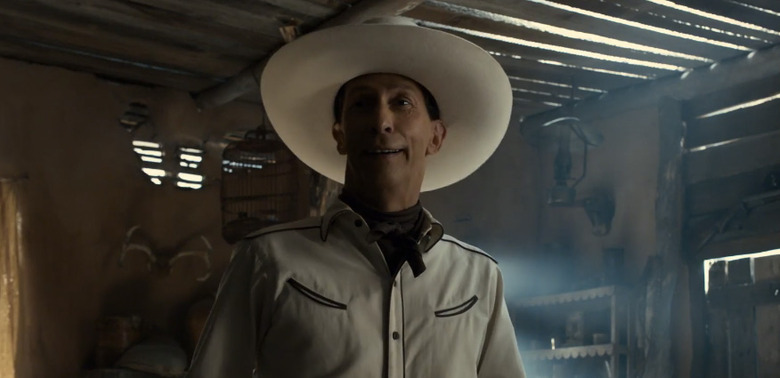 Fresh off debuting at the Venice Film Festival, where it won Best Screenplay, Netflix has released the first trailer for Joel & Ethan Coen's Western anthology film The Ballad of Buster Scruggs. What started out as a Netflix series became an anthology film starring the likes of James Franco, Tim Blake Nelson, Brendan Gleeson, Zoe Kazan, Tom Waits, Stephen Root and many more. Get a taste of each of the stories in The Ballad of Buster Scruggs trailer below.
Watch The Ballad of Buster Scruggs Trailer
This feels very much like a Coen Brothers western, complete with a meta voiceover provided by a man on a train, who refers to himself as "the distractor," with a little story to tell. As a montage of shots from the shorts that make up The Ballad of Buster Scruggs come and go, this upscale man mentions how people love to hear stories about themselves, "so long as the people in the stories are us, but not us." That's deep, man.
Tim Blake Nelson plays the title character, who feels like a cartoonish (almost unreal) cowboy with clean clothes and a jolly demeanor and likely a penchant for pissing everyone off. Otherwise, the only other story we get a good look at involves James Franco have at least a couple near-death experiences involving a hanging.
Of course, since The Ballad of Buster Scruggs has been playing on the festival circuit, we already know what the critics are saying. The movie has been called simultaneously funny in that dark Coen Brothers way but also mournful. Because of that, the result is a movie that ends up being a little uneven. But Robbie Collin at The Telegraph wrote a particularly glowing review that says:
"Half-fish, half-fowl and altogether inspired, it is a dazzling mosey through the creeks and canyons of the Coenesque, whose scattershot format and by turns bizarre and macabre sense of humour belies a formal ingenuity and surgical control of tone that keeps the viewer perpetually off-guard."
The Western anthology also stars Tyne Daly, Bill Heck, Grainger Hines, Ralph Ineson, Harry Melling, Jonjo O'Neill, Chelcie Ross, Saul Rubinek, Clancy Brown, Jefferson Mays, and Willie Watson.
The Ballad of Buster Scruggs is a six-part Western anthology film, a series of tales about the American frontier told through the unique and incomparable voice of Joel and Ethan Coen. Each chapter tells a distinct story about the American West.
The Ballad of Buster Scruggs hits limited theaters and Netflix the same day on November 16, 2018.