DC Universe's 'Swamp Thing' Series Looking To Cast "Guy In Monster Suit" Veteran Derek Mears As Swampy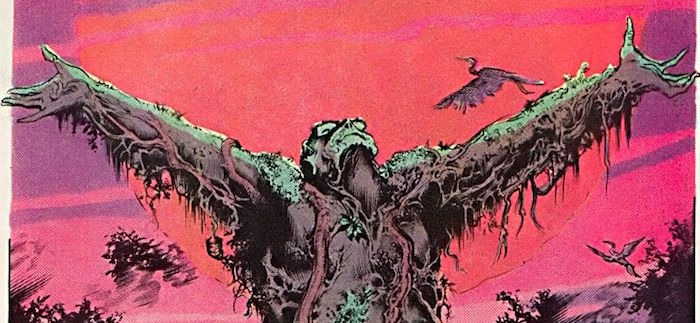 Don't let his monstrous appearance fool you – Swamp Thing is one of DC Comics' most soulful characters, a melancholic plant creature with an ongoing existential crisis and the weight of the Earth's ecosystems on his shoulders. So for the new television series coming to the DC Universe streaming service, it's only appropriate that they're looking to cast an actual actor to fill out that mossy green suit.
According to a new report, Derek Mears has emerged as a frontrunner for the role of Swampy, and that's some fine casting.
The news has not arrived via an official source yet, but Splash Report has strong sources so we'd put our money on this story having plenty of truth to it. Plus, it just makes sense that Mears would be in the running for this role. He's 6' 5", physically imposing, and has a long history of playing monsters, aliens, and hulking creatures. After all, he played a Predator in Predators and the Friday the 13th franchise's best Jason in the 2009 remake (yeah, I said it). If he can lend that hockey-masked killer some genuine humanity, I eagerly await his Swamp Thing.
As a quick sidenote, this wouldn't be Mears' first superhero TV show role. He has previously played characters on ABC's Agents of S.H.I.E.L.D. and The CW's The Flash.
Interestingly, Mears would only be playing the physical embodiment of Swamp Thing, not the man he once was. The show will follow the character's comic book origin: scientist Dr. Alec Holland is in a terrible accident (caused by some sinister characters) that causes him to transform into the "Swamp Thing," a brutish creature with a deep connection to plant life and a new mission to protect it at all costs. The series will use Abby Arcane (set to be played by Crystal Reed), Alec's human love interest, as a POV character. On the page, these two have one of the most beautiful and odd romances in comic book history, so it'll be helpful for the actor inside the Swamp Thing suit (which will be practical, thank God) to have some real pathos.
It's not yet clear who will play the human version of Alec Holland and whether or not that character will provide Swampy with his speaking voice.
The Swamp Thing series will be produced by horror maestro James Wan and run by Mark Verheiden and Gary Dauberman with a pilot directed by Underworld's Len Wiseman, a line-up that suggests the series won't shy away from the character's horror roots. However, the Swamp Thing comic series eventually grew beyond its "vengeful monster" roots and became something more fantastical, profound, and challenging. I eagerly await to see whether this show embraces what makes this character so great or if everyone just wants to make a solid horror show about a big green guy who punches villains in a murky Louisiana bayou. We shall see.