'The Nun' Summons $53.5 Million Debut, The Biggest Opening For 'The Conjuring' Franchise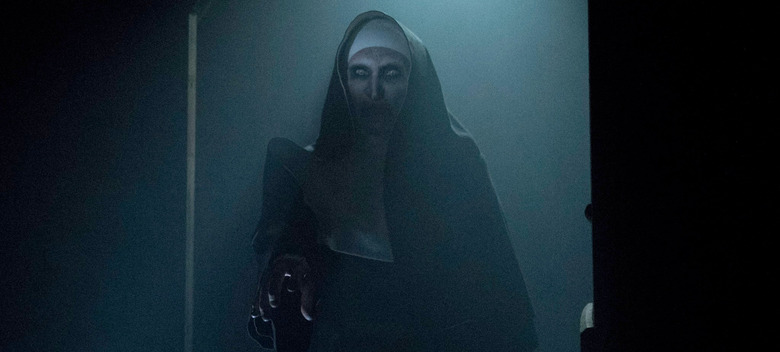 We're just one weekend into September, but audiences seem hungry for some Halloween scares with The Conjuring spin-off The Nun topping the box office with a huge debut.
Despite having a 28% at Rotten Tomatoes, the horror crowd couldn't help but be curious about the demon Valak this weekend. The Nun rounded up $53.3 million from 3,876 locations, landing the best debut in the entire Conjuring franchise, surpassing the previous placeholder of the original The Conjuring, which earned $41.8 for its opening weekend back in 2013. And that's not the only milestone The Nun scared up for the horror franchise.
Forbes reports that in addition to topping the box office, The Nun now puts The Conjuring franchise in the lead as the biggest R-rated horror franchise of all time with over $1.1 billion worldwide, topping Halloween, A Nightmare on Elm Street, Friday the 13th and more.
Furthermore, outside of the specific genre, it's now the fourth biggest R-rated franchise in general, coming in only behind The Matrix trilogy, the Deadpool franchise, and The Hangover series. That puts it ahead of the likes of the Alien franchise, the Fifty Shades of Grey sexcapades, the Resident Evil movies, and Die Hard. Of course, that's not adjusted for inflation.
The Conjuring franchise is only going to get bigger too, while half of those other franchises aren't moving forward with new installments anytime soon. The Conjuring 3 is on the way, and presumably another spin-off will come out of it. Plus, there's a third Annabelle movie in the works, a spin-off for The Crooked Man, and after The Nun's impressive debut, a sequel probably shouldn't be ruled out.
Meanwhile, overseas, The Nun also raked in another $77.5 million, giving the spin-off a global total of $131 million. With that kind of debut around the world, Warner Bros. Pictures couldn't be happier. Jeff Goldstein, Warner Bros. head of domestic distribution, says:
"We knew heading into the weekend that anticipation for 'The Nun' was extremely high across multiple demos, but these results surpassed all our expectations. We anticipate strong word of mouth to carry the film well into the fall, and expect more than a few Nuns showing up on doorsteps and at parties this Halloween!"
This is another big weekend for Warner Bros. who has been dominating the box office for weeks with The Meg and Crazy Rich Asians. That's five consecutive weekends of taking the top spot, and four straight weeks of having the #1 and #2 slots as well. It's been 25 years since a studio did that. But they probably won't be able to hold off The Predator from taking the top spot next weekend.
The Nun is in theaters everywhere now.