Dimension's Delayed 'Polaroid' Horror Movie May Get Picked Up By Netflix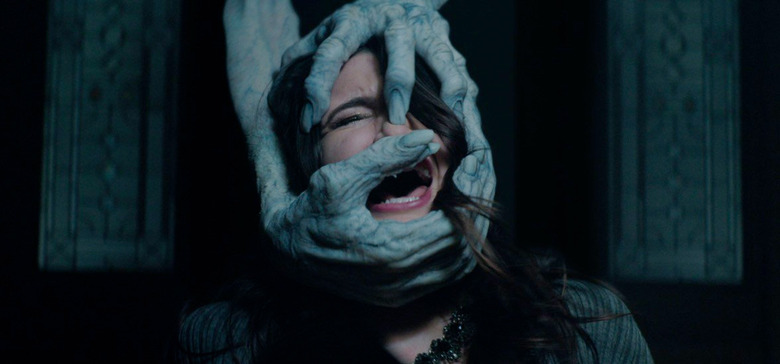 It's been over a year since we saw the first trailer for the Dimension Films horror flick Polaroid. The movie was meant for release last November, but it was suddenly pulled from the calendar in the midst of all The Weinstein Company's struggles in the wake of sexual misconduct allegations against the monstrous Harvey Weinstein. Now it might finally see the light of day thanks to Netflix.
Before we go any further, here's the Polaroid trailer that was first released in June of last year:
Though it's based on a short film of the same name from director director Lars Klevberg, the film sounds like a revamped version of the Goosebumps book Say Cheese and Die! The story follows a high school lone wolf named Bird Fitcher who quickly finds that a mysterious vintage Polaroid camera holds mysterious and deadly secrets that result in the death of anyone who has their picture taken by the camera.
The only downside is that this horror movie was previously given an MPAA rating of PG-13 for "violence/terror, thematic elements, brief strong language, some teen drinking and drug material." So this sounds like the kind of horror movie that high school kids go to see on the weekend, but instead just end up hopping around seats and fucking around the entire time.
Thankfully, you might not have to worry about having your Polaroid viewing experience disrupted, because Deadline reports Netflix is currently in talks with The Weinstein Company's new owner, Lantern Entertainment, to take the film off their hands. It's exactly the kind of movie that belongs in the Netflix library so people can stumble upon it and forget about it later, much like a lot of Dimension's horror offerings that aren't Scream movies.
Polaroid stars Kathryn Prescott, Mitch Pileggi, Grace Zabriskie, Tyler Young, Keenan Tracey, Samantha Logan, Priscilla Quintana, Madelaine Petsch, and Javier Botet. A deal still needs to be finalized for the Netflix acquisition, but as soon as we find out when the movie will hit the streaming service, we'll let you know.