'Wildlife' Trailer: Jake Gyllenhaal And Carey Mulligan Are A Crumbling 1960s Nuclear Family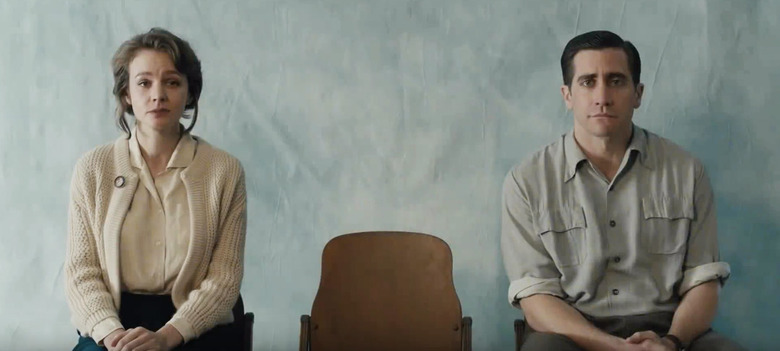 With the Toronto International Film Festival in full swing, we're starting to get a better glimpse of some of the movies playing the festival. Several of them have already made the rounds on the festival circuit as far back as Sundance in January but are now ramping up their marketing campaign as awards season lingers around the corner. That's where Paul Dano's directorial debut comes into play.
Wildlife is an adaptation of Richard Ford's acclaimed novel of the same name, and it finds Jake Gyllenhaal and Carey Mulligan as a couple on the outs in 1960s Montana as a forest fire rages in the mountains not too far away. It's up to their son Joe (Ed Oxenbould of The Visit) to become the man of the house and try to keep his family together, even as all seems hopeless. Watch the new Wildlife trailer below.
Paul Dano's Wildlife Trailer
While Wildlife has garnered plenty of acclaim on the film festival circuit, this is one of those instances where I find myself on the outside looking in as someone who wasn't quite as enthralled or moved by this dysfunctional family's struggle to maintain some sense of sanity and love.
The performances from Jake Gyllenhaal, Carey Mulligan and Ed Oxenbould in Wildlife are undoubtedly remarkable, but the metaphor of the forest fires raging nearby, the quietly contemplative narrative, and Revolutionary Road-style melancholy never really came together as something powerful for me to latch on to. It feels like a story that has been told better several times before.
Still, many other critics have found plenty to praise. And honestly, I wouldn't even go so far as to call the movie bad by any means. Paul Dano knows how to direct by letting his actors tell the story without overpowering their performance with overbearing camera movements. He doesn't try to spell everything out for the audience, instead letting them come along on this journey with these flawed, desperate characters. And he certainly makes great use of the scenic setting of Montana. For some reason, it's just not a movie that connected with me on an emotional level.
Here's the official synopsis for Wildlife:
Jeanette (Carey Mulligan of An Education) is a complex woman whose self-determination and self-involvement disrupts the values and expectations of a 1960s nuclear family. Fourteen-year-old Joe (Ed Oxenbould of The Visit), is the only child of Jeanette and Jerry (Jake Gyllenhaal)—a housewife and a golf pro—in a small town in 1960s Montana. Nearby, an uncontrolled forest fire rages close to the Canadian border, and when Jerry loses his job—and his sense of purpose—he decides to join the cause of fighting the fire, leaving his wife and son to fend for themselves. Suddenly forced into the role of an adult, Joe witnesses his mother's struggle as she tries to keep her head above water.
Wildlife opens in theaters starting on October 19, 2018.