'Bohemian Rhapsody' Clip Shows The Making Of Queen's Most Famous Hit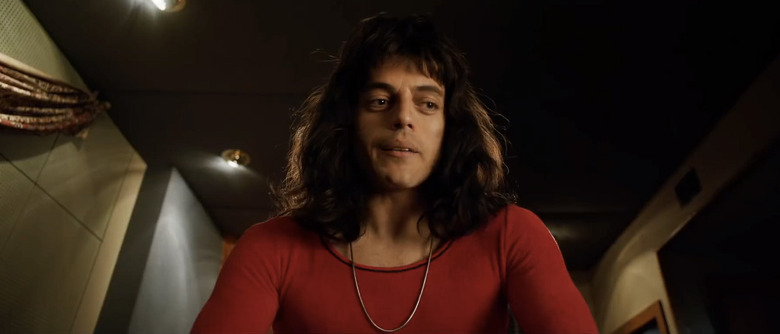 One of the most anticipated movies of the fall is Bohemian Rhapsody, the story of classic rock band Queen and their show-stopping frontman Freddie Mercury. The movie will undoubtedly be in the running for awards when the time comes, but in the meantime, you can check out a new Bohemian Rhapsody clip that shows the making of Queen's titular track that people can't help but sing when they hear it, no matter where they are.
Watch the Bohemian Rhapsody Clip
The Bohemian Rhapsody clip shows Freddie Mercury (Rami Malek) pushing his bandmates to their limits in the recording studio while recording the title track. Roger Taylor (Ben Hardy) does many different renditions of the famous "Galileo" and "Figaro" operatic lines, becoming a little frustrated with the process.
Thankfully, as we all know, the song came together to become a masterpiece, and we get to see the song in action as Freddie Mercury performs live. And what's great is that it's not just the recording of the song played over the performance, but a live version of the song where Freddie Mercury changed up the vocals a little bit while on stage. It's a nice way to celebrate the fact that today is Freddie Mercury's birthday.
Rami Malek's stage presence and softer spoken nature show the incredible range it takes to play a musical genius like Freddie Mercury, and this performance will undoubtedly be one to keep an eye on this coming awards season.
The rest of the Bohemian Rhapsody cast includes Lucy Boynton, Gwilym Lee, Joseph Mazzello, Aidan Gillen, Tom Hollander, Allen Leech and Mike Myers. Director Bryan Singer was originally at the helm of the movie, but trouble behind the scenes (either due to accusations of sexual misconduct or the director's tending to an ill family member) resulted in the filmmaker being fired before production finished, and he was replaced with Dexter Fletcher. However, it looks like Singer will receive final credit on the film.
For more from Bohemiam Rhapsody, watch the full trailer here.
Bohemian Rhapsody is a foot-stomping celebration of Queen, their music and their extraordinary lead singer Freddie Mercury. Freddie defied stereotypes and shattered convention to become one of the most beloved entertainers on the planet. The film traces the meteoric rise of the band through their iconic songs and revolutionary sound. They reach unparalleled success, but in an unexpected turn Freddie, surrounded by darker influences, shuns Queen in pursuit of his solo career. Having suffered greatly without the collaboration of Queen, Freddie manages to reunite with his bandmates just in time for Live Aid. While bravely facing a recent AIDS diagnosis, Freddie leads the band in one of the greatest performances in the history of rock music. Queen cements a legacy that continues to inspire outsiders, dreamers and music lovers to this day.
Bohemian Rhapsody hits theaters on November 2, 2018.