'The Front Runner' Early Buzz: Hugh Jackman Is Oscar Worthy In Robert Altman-Esque Political Drama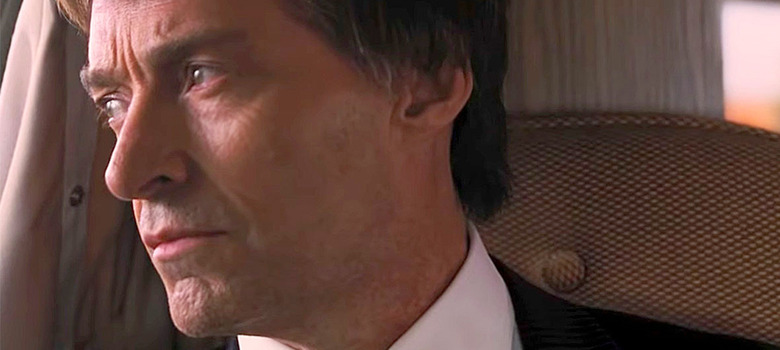 This weekend the Telluride Film Festival is getting a sneak peek at some of the movies that will be hitting the festival circuit in the coming weeks. A good amount of them had already debuted at the Venice Film Festival this past week, but one that we hadn't yet heard anything about yet was the political drama The Front Runner, directed by Jason Reitman and starring Hugh Jackman. That changed today.
After the first trailer for The Front Runner
, audiences got to see Hugh Jackman in action as the leading candidate for President of the United States of America as the nominee for the Democratic party in 1988 who destroyed his chances at victory with a little scandal. So what do the first reactions out of Telluride have to say? Find out below.
The Front Runner Reactions
Since Telluride is a much smaller film festival in the mountains of Telluride, Colorado, there aren't tons of press up there like when the Sundance Film Festival unfolds in Utah. But there are still some brief reactions to take note of from critics and audience members. Most of them are very complimentary, but there are some shortcomings to be noted:
THE FRONT RUNNER is a solid, sort of timely movie. Nice to see Hugh Jackman play this sort of a part. And Vera Farmiga can elevate anything.

— Scott Feinberg (@ScottFeinberg) September 1, 2018
#TheFrontRunner was my most anticipated film of the Telluride Film Festival. Hugh Jackman's performance is phenomenal and is unlike anything you have seen him do before. He's differently a front runner for the Oscar. The film itself is very timely and important. A Must See. pic.twitter.com/uqFdE6GAKz

— Scott Menzel (@ScottDMenzel) September 1, 2018
Quick and stylish dialogue can't save The Front Runner from being a flat, political procedural with middling performances. It just got left in the wake of First Man. #Telluride #TellurideFilmFestival

— Mark Johnson (@MarkLikesMovies) September 1, 2018
#TheFrontRunner is a decent film in its second half that raises without answering urgent questions about the relationship between the media and politics. First half suffers from Reitman's usual insistence that his clever quips are needed every other scene. #TellurideFilmFestival

— J Don Birnam (@jdonbirnam) September 1, 2018
The Front Runner Reviews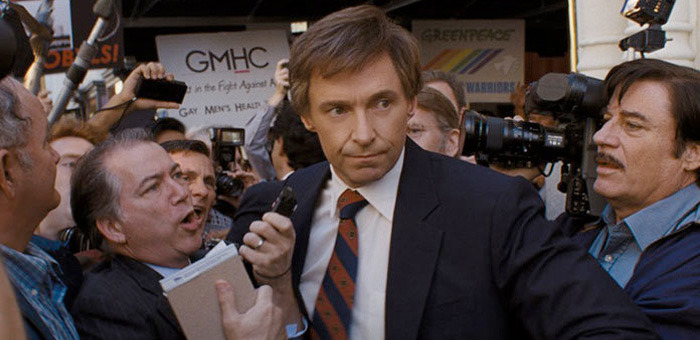 Meanwhile, the first reviews dig a little deeper into the movie and have some nitpicking to do, but mostly have positive things to say about the timely film.
David Ehrlich at
wasn't very impressed with the film:
Judging by Jason Reitman's lucid but lifeless attempt to dramatize the final weeks of his campaign, Hart's scandal was the beginning of the end for political discourse in this country. The film takes that fact for granted. The twin questions that drive "The Front Runner" from its Altman-esque first shot to its whimper of an ending are more complex and open-ended than that: To what degree was the fallout Hart's fault, and what role do the media (and the American people) play in the supposed degradation of our national priorities?
In Reitman's hands — which are confident and clumsy in equal measure — these hefty matters play out as a mordant political comedy that tries to split the difference between "Veep" and "All the President's Men." That's a tough needle to thread, and it doesn't take long before "The Front Runner" throws in the towel on that idea. After an energetic and character-driven first act, the movie dulls into a talky civics debate that flattens every member of its massive cast into lame totems for the respective ideas each of them is meant to represent.
Stephen Farber at
writes:
This film, adapted from Matt Bai's book about the Hart campaign, is both provocative and somewhat disappointing.
The film never quite clarifies its own attitude toward Hart. It simply doesn't spend enough time with him to allow the audience to decide whether he was a truly transformative politician undone by tabloid reporters or just another slick operator. This robs the film of a tragic dimension that it might have achieved.
Nevertheless, given the limitations of the role, Jackman delivers one of his finest performances. He allows us to see the character's charisma and essential decency, along with a certain solipsism that has undone many leaders.
Sasha Stone over at
threw some compliments at the movie:
This is Reitman's second film this year, after "Tully," with Charlize Theron beating back postpartum depression. Though the director is known for taking risks and sometimes failing, pulling off these two very different films in the same year is be applauded.
Reitman is more in his element with "The Front Runner," especially in the film's first half, as we dive into what politics was like in 1988. The film has to manage disparate elements in its second half, like the Harts' strained marriage due consideration alongside the political turmoil.
To its credit, "The Front Runner" doesn't send us out the door with any easy solutions. It doesn't tell us how we should feel or pretend to know all the answers. For some, that might be frustrating, but "The Front Runner" delivers more than enough provocative material to make it a wild, occasionally hopeful, often depressing ride.
Gregory Ellwood over at
walked away mostly satisfied:
Reitman chronicles this sprawling opera by taking a layered and ensemble-heavy page from legendary director Robert Altman. Yes, Jackman's impressive portrayal of Hart is at the center of "The Front Runner" (it's one of the best performances of his career), but Reitman uses a large cast of characters to give depth to the events in question. Beyond the aforementioned Farminga, Paxton and Athie, Jackman is surrounded by notable performers such as J.K. Simmons as his disheartened campaign manager, Alfred Molina as the editor of the Post, Ari Graynor as Post reporter Ann Devroy, Steve Zissis as an Herald reporter in over his head, Molly Ephraim as a member of the senior campaign staff sympathetic to Rice, Kevin Pollack as the editor of the Herald who eventually comes in direct conflict with Hart, and both Josh Brenner and Alex Karpovsky as campaign advisors, among others. Similarly to Mike Leigh's "Peterloo," also screening at Telluride, Reitman finds moments for them all to shine.
He also employs Altman's technique of panning across a scene without cutting and zooming in on one conversation, pulling back and then focusing on another. It's a new ground for the "Up In The Air" director and you often wish there were more opportunities in the film for him to use it. When a scene is constructed in a conventional manner the film often lacks the same energy and stylistically feels flat. In those moments, it's that exceptional cast that keeps you engaged even if you're well-aware of Hart's fate.
***
The early buzz for The Front Runner sounds mostly good so far. There are some negative reactions who aren't all that impressed with the movie, but it seems like Hugh Jackman is at least being universally praised for his performance, even if some think it's not enough to make the movie more compelling. Even so, this sounds like a timely and relevant movie for our currently political climate, especially with the #MeToo movement happening at the same time.
The Front Runner will start hitting theaters on November 7, 2018.