The Last Blockbuster Video Store In The United States Is Getting An Official Beer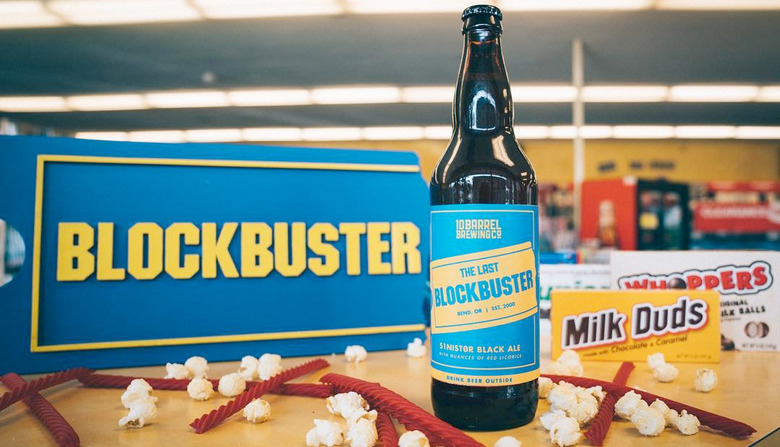 There's already a documentary being filmed about the last Blockbuster Video store in operation in the United States up in Bend, Oregon. And that's about to get a little more exciting with the unveiling of an official Blockbuster beer.
The 10 Barrel Brewing company, owned by Anheuser-Busch, is releasing a limited edition Blockbuster inspired beer that will be released at a special block party at the surviving video store. And there are only a handful of places you'll be able to get it after that. Find out more about the Last Blockbuster beer below.
The Last Blockbuster Beer
The Last Blockbuster beer is called S1nist0r Black Ale. It's a a schwarzbier that 10 Barrel has brewed before, and it's described as having nuances of red licorice. Apparently the beer "pairs perfectly with buttery theater popcorn and your favorite movie-sized chocolate with a light body, smooth finish, and hints of nostalgia."
If you want to get your hands on this beer, the first time it will be available is on September 21 at a block party hosted by the last Blockbuster. Since the store doesn't have to operate with the confines of the Blockbuster corporate structure (since there is no corporation anymore), they can do whatever they want to. That's why they're also having their Facebook followers vote on what movie will be shown at the block party. Right now Strange Brew is in the lead, but Hocus Pocus could catch up.
For those of you who are too far away from the last Blockbuster in Bend, Oregon, you can still seek out the Last Blockbuster beer. 10 Barrel Brewing will be sending it out for a limited time to six of their brewpub locations. Two of them are in Bend, Oregon, one is in Denver, Colorado, another in Portland, Oregon, one in Boise, Idaho, and the last one in San Diego, California. So seek it out while you can, and rent a DVD for old time's sake if you can.
If you want to know more about what's happening at The Last Blockbuster, check this out: