LOL: Tom Clancy's 'Jim Ryan' Pits Dwight Schrute Against Dunder-Mifflin's Top Spy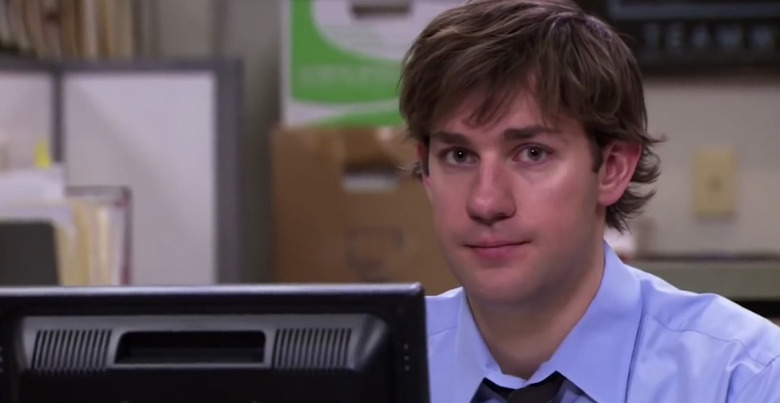 One of the greatest friendly rivalries in the history of television is undoubtedly that of Jim Halpert (John Krasinski) and Dwight Schrute (Rainn Wilson), two of the top salespeople from the Dunder-Mifflin Paper Company followed closely in the mockumentary series The Office. However, that rivalry is about to be taken to a new level.
Tom Clancy's Jim Ryan is a new series that we wish was real on Amazon where the titular analyst must go undercover as a paper salesman is forced to deal with a top security threat in the form of another salesman at the company. Mixing footage from Amazon's Jack Ryan series with The Office makes for a trailer mash-up that is better than it has any right to be. Watch below!
The Office Jack Ryan Trailer Mash-Up
Funny or Die's The Office Jack Ryan trailer mash-up masterfully uses the pranks between Jim and Dwight and makes them a little more sinister when the two are imagined to be spies caught up in dangerous espionage. The use of Dwight's surprising number of times using a weapon and his various disguises to portray people from the office make him a deadly threat. Meanwhile, Jim Ryan is just an unsuspecting paper salesman caught up in it all, and he might just be in over his head.
It's actually rather impressive how scenes like Dwight's family farm funeral mixes with an outdoor party that Jack Ryan must be whisked away from. Plus, the juxtaposition of the epic snowball war that gets out of hand with the snowy locations used for Jack Ryan is just perfect. Surely the real Jack Ryan series won't have this kind of entertainment, but now that it's available on Amazon, you can find out for yourself.