DC's 'Doom Patrol' Casts K2-SO Actor Alan Tudyk As The Villainous Mr. Nobody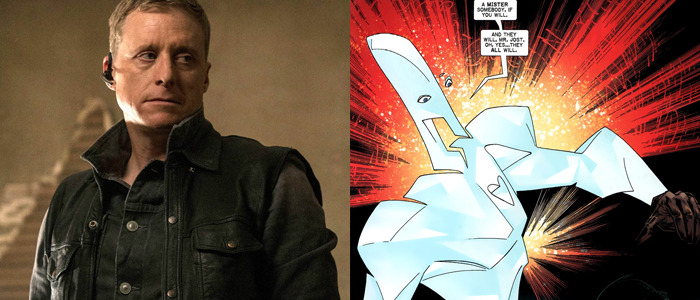 While movies based on DC Comics characters have been hit or miss over the past few years, DC has been dominating when it comes to small screen entertainment. Now the company is looking to expand its empire with DC Universe, a new digital platform that will offer comics, access to existing shows and movies, and brand new original series.
One of the platform's new shows is a live-action version of Doom Patrol, and now the show has cast fan-favorite actor Alan Tudyk (Firefly, Rogue One: A Star Wars Story) to play the villain, a character known as Mr. Nobody. Read more about the newest addition to the Doom Patrol cast below.
Deadline reports that Tudyk has been hired to play Mr. Nobody, a mysterious and totally insane villain formerly known as Eric Morden. Morden was experimented on by ex-Nazis in Paraguay after World War II, and those experiments turned him into "a living shadow able to drain the sanity of others". Tudyk has played a DC character multiple times already, voicing The Flash in a couple episodes of Batman: The Brave and the Bold and voicing Superman in Justice League: War, but here he'll be suiting up as a super-powered baddie. Though he's probably best known for playing lovable sidekicks in things like Firefly, Rogue One, and Dodgeball, he's also played villains before – most famously, King Candy in Wreck-It Ralph.Doom Patrol is yet another in a long line of shows created by Greg Berlanti, the mastermind behind The CW's Arrow-verse. But this show sounds like it features a group of heroes so obscure that even the Legends of Tomorrow would have to scratch their heads to remember if they've ever heard of them before. The series follows a ragtag group of outcast superheroes like Robotman (Brendan Fraser), Negative Man, Elasti-Woman (April Bowlby), and Crazy Jane (Diane Guerrero), led by modern-day mad scientist Dr. Niles Caulder and called into action by Cyborg (Jovian Wade). Jeremy Carver (Supernatural) wrote the script.
Here's the synopsis:
The Doom Patrol's members each suffered horrible accidents that gave them superhuman abilities — but also left them scarred and disfigured. Traumatized and downtrodden, the team found purpose through The Chief, who brought them together to investigate the weirdest phenomena in existence — and to protect Earth from what they find. Part support group, part Super Hero team, the Doom Patrol is a band of super-powered freaks who fight for a world that wants nothing to do with them. Picking up after the events of TITANS, DOOM PATROL will find these reluctant heroes in a place they never expected to be, called to action by none other than Cyborg, who comes to them with a mission hard to refuse, but with a warning that is hard to ignore: their lives will never, ever be the same.
DC Universe is set to launch on September 15, 2018, but there's no release date in place yet for Doom Patrol.