Star Wars Land Will Have A Cantina, Bringing Alcohol To Disneyland For The First Time Ever Publicly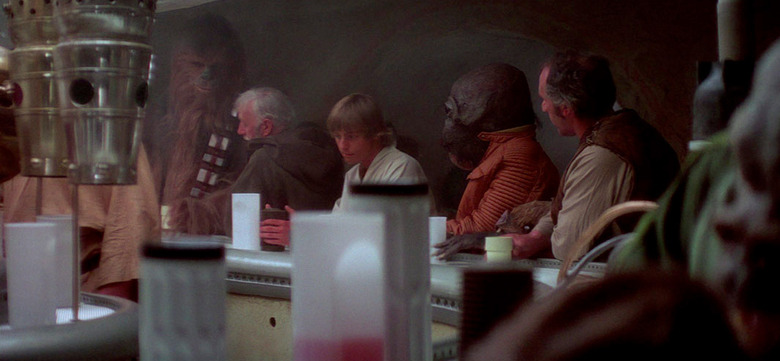 We're not even into fall yet, but it's hard not to look forward to the summer of 2019. Not only will that give Marvel Cinematic Universe fans the answers they've been waiting for in Avengers 4, but that's when Disney theme parks will be opening Star Wars Land. And today brings news of the perfect and inevitable addition to the theme park area inspired by a galaxy far, far away.
Disney Parks has announced that Star Wars Galaxy's Edge, which will be located on the planet of Batuu, will have a smuggler's hot spot called Oga's Cantina. And just like the cantina at Mos Eisley spaceport on Tatooine, it's bound to be a wretched hive of scum and villainy, especially since it's the first time alcohol will be allowed at Disneyland.
Star Wars Land Cantina Concept Art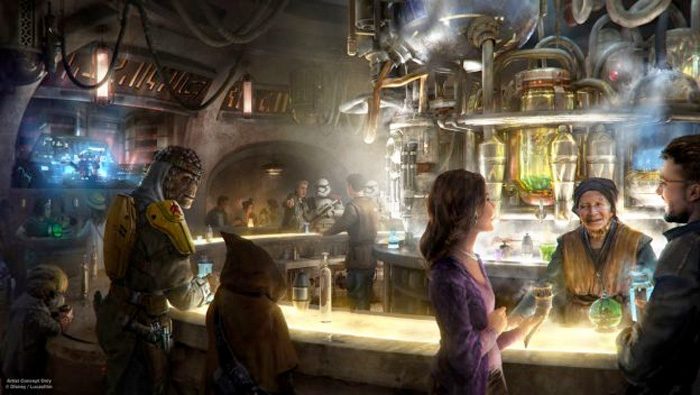 As you can see, the concept art for Oga's Cantina isn't too far of a departure from the cantina on Mos Eisley, though it does look a little more colorful and technologically advanced. Here's how the cantina is officially described in the announcement from Disney Parks:
Visitors come to this notorious local watering hole to unwind, conduct shady business, and maybe even encounter a friend...or a foe. Run by an intriguing alien proprietor, Oga Garra, the cantina adheres to a strict code of conduct that tries to keep its unruly patrons in check. But with a history of being a smugglers' safe haven and a popular stopping point for those seeking to avoid the authorities, you can bet that the cantina has a story or two to tell.
Oga's Cantina is the kind of establishment that attracts some of the most interesting and disreputable characters in the galaxy. And you never know when a stormtrooper or a familiar face will show up. Patrons of the cantina come from across the galaxy to sample the famous concoctions created with exotic ingredients using "otherworldly" methods, served in unique vessels. With choices for kids and libations for adults, the cantina will make for a great stop!
Musical entertainment is provided courtesy of RX-24, the former StarSpeeder 3000 pilot droid we first met in Star Tours, who has re-envisioned himself as the cantina's DJ. As quirky and talkative as ever, he's still trying to do his best on the job. Get ready to listen to some unique music, taste the best drinks in the galaxy, and surround yourself with a colorful cast of characters. You never know what will happen at the cantina!
Frankly, I can't wait to try the drinks from this cantina. The mention of "famous concoctions created with exotic ingredients using 'otherworldly' methods" makes me think they'll be much more unique than regular alcoholic drinks with a Star Wars pun. Plus, the fact that they're served in "unique vessels" makes me think we could be getting some intricate Star Wars themed drinkware. Personally, I wouldn't mind a highball glass shaped like a lightsaber handle, though after a few of those, it might be difficult to fly the Millennium Falcon.
Unique food and drink stops have always been a staple of Disney Parks, and it's nice to see that Star Wars Galaxy's Edge will include that necessary park of the theme park experience. But the surprising part is the addition of alcohol. Until now, at Disneyland, only Club 33 and other private events have allowed for alcohol on park property. But that's a change that has already been made at Disney World since the introduction of the "Be Our Guest" themed restaurant paved the way for beer and wine to be added to beer and wine to table-service menus, so it appears Disneyland is following suit.
Considering how interactive this Star Wars land is supposed to be, you just might encounter a bounty hunter who is out for your head at this cantina. Hopefully, you won't be too hammered to deal with him. Just make sure to tip the bartender after you inevitably make a mess by shooting first.