Woody Allen's Next Movie 'A Rainy Day In New York' Shelved By Amazon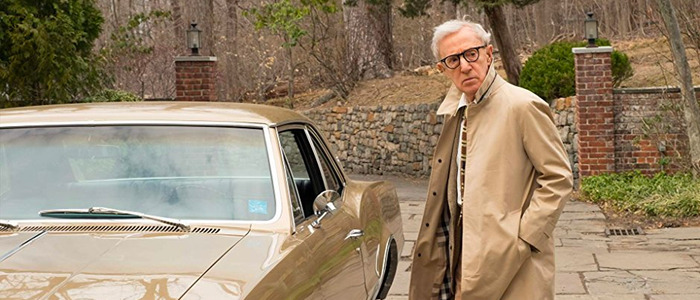 Woody Allen's next movie may never see the light of day. The prolific filmmaker recently announced he was taking time off from directing for the first time since 1981, and now comes word that Amazon has shelved his next film, A Rainy Day in New York. Amazon has yet to give a specific reason as to why they're shelving the movie, but odds are it has a lot to do with the sexual abuse allegations allegations that have followed the director for decades.Page Six reports that Woody Allen's latest is being shelved indefinitely by Amazon. The film, titled A Rainy Day in New York, was finished last fall. Like most Allen movies, it has an impressive cast: Timothée Chalamet, Selena Gomez, Rebecca Hall, Jude Law, and Elle Fanning. In the past, actors were always eager to appear in one of Allen's films – it was something of a right of passage, especially for up-and-comers. But things have changed considerably in the last year.
In 1992, Allen was accused of sexually assaulting his adoptive daughter Dylan Farrow. Allen denied it, and no charges were ever filed. The allegations left a mark on Allen's career...but not enough of one to stop him from working, or to stop people from wanting to work with him. He continued to pump out movies. Last year, however, the #MeToo and Time's Up movements began to gather national attention. Allen's own son Ronan Farrow was at the forefront of this, writing explosive stories on Harvey Weinstein and more.
Yesterday, word broke that Allen was taking time off for the first time in years. The source of the story (Page Six yet again) cited the #MeToo movement as a significant reason behind Allen's sudden vacation:
The #MeToo movement, ironically spearheaded by [Allen's] son Ronan Farrow, has hurt the auteur, who was accused by his adopted daughter, Dylan Farrow, of sexually abusing her 26 years ago. Allen was never formally charged with a crime, although a judge in Allen's child-custody case against Mia Farrow called Allen's behavior toward Dylan "grossly inappropriate."
At the time of that story, A Rainy Day in New York was still slated for a 2018 release date. Now, it's off the calendar completely, indefinitely. Timothée Chalamet, Griffin Newman and Rebecca Hall previously announced they would donating their paychecks from the film to charities for victims of sexual abuse. The film was part of a big deal Amazon has signed with Allen – a deal that resulted in the series Crisis in Six Scenes and the film Wonder Wheel. Both projects were met with negative press questioning Amazon's decision to work with Allen. Apparently Amazon has finally decided to listen by shelving A Rainy Day in New York, probably for good.