Cool Stuff: Let Mondo's 'Halloween 3: Season Of The Witch' Vinyl Soundtrack Control Your Mind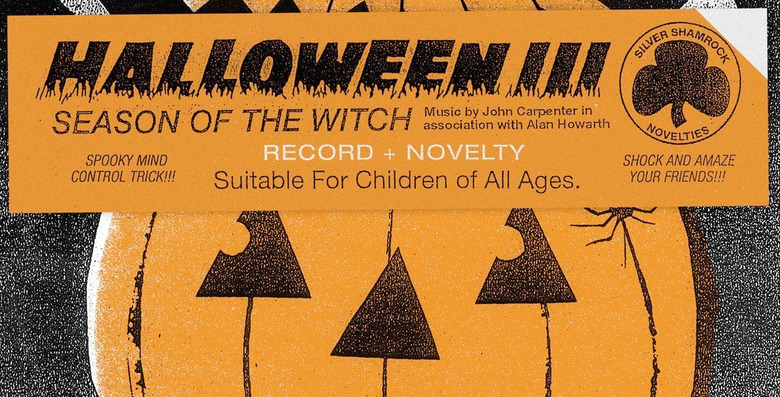 Halloween 3: Season of the Witch is the only chapter in the horror franchise that doesn't feature the iconic slasher Michael Myers. Though it was disregarded for years, the film has earned a loyal following in horror circles, and those fans will undoubtedly be happy to see the film's soundtrack composed by John Carpenter and Alan Howarth get the vinyl treatment by Mondo, complete with an incredibly designed package featuring art by Alan Hynes, and a special magic trick to astound your friends.
Halloween 3 Vinyl Soundtrack

Mondo teamed up with Death Waltz Recording Co. to created a new pressing of the remastered soundtrack that Death Waltz issued in 2015, taken from the original 2-inch master tapes. As you can see, there are three different vinyl offerings: 180 Gram Pumpkin Mask vinyl (Orange and Black color-in-color), Skeleton Mask vinyl (Cloudy Clear and Black color-in-color) or Witch Mask vinyl (Green and Black color-in-color).
The artwork by Alan Hynes was designed to resemble vintage, novelty Halloween toy packaging while still fitting with the overall aesthetic of the movie itself. Plus, the special packaging fits inside of the specially designed Halloween vinyl soundtrack slipcase that holds all of the Halloween franchise vinyl releases coming from Mondo this year. Plus, it includes three cards to perform a special magic trick with instructions includes in the slipcase.
If you're not quite as familiar with the music of Halloween 3 as you are the rest of the franchise, here's how Mondo excitedly describes the electronic score:
"John Carpenter and Alan Howarth completely jettisoned their previous work and deliver nothing short of an electronic masterpiece. The lead track 'Chariots Of Pumpkins' is an epic 4/4 beat-driven synth-banger that has regularly been played by DJs over the last 10 years. The rest of the score features lush pads, Linn drums aplenty and veers from beautiful blissed-out ambient drones to sinister stinger-driven mood pieces. Absolutely outstanding stuff."
If you need anymore convincing, here's a teaser video:
Maybe it's time to revisit Halloween 3: Season of the Witch. You can pick up the Halloween 3 vinyl soundtrack from Mondo starting Wednesday, August 29 at 12pm CT.