Disney Is Tweaking The Millennium Falcon Ride At Star Wars: Galaxy's Edge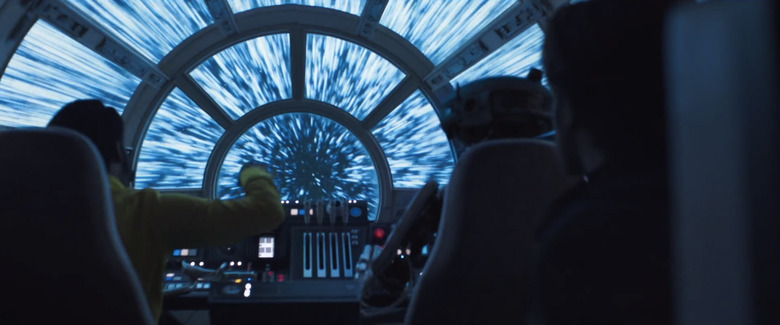 When Star Wars: Galaxy's Edge opens at Disney theme parks next year, guests are going to be waiting in line for hours to experience the yet-to-be-titled Millennium Falcon ride. It's a completely interactive motion-simulator attraction in which the ship's flight is impacted by the riders' decisions, but a new report suggests that Disney has hit a few snags during the testing phase. Keep reading to learn why "they are now having to retrofit after the fact."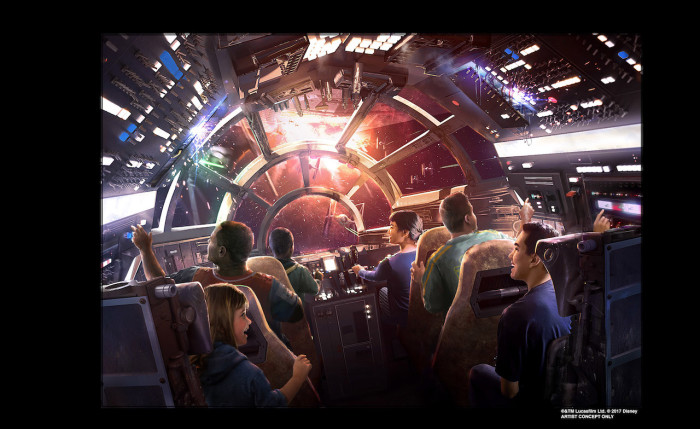 Millennium Falcon Ride
On a recent episode of the Disney Dish podcast, theme park expert Jim Hill (an extremely reliable source of Disney park info) laid out what guests can expect from the ride:
"There are six seats inside of the pilot compartment. In order to ensure that this thing has decent capacity, there are seven pods in operation at any one time. So that's 42 people who are piloting the Millennium Falcon at any one time. I'm hearing a three and a half minute ride cycle. Again, you're seated inside the cockpit of the Millennium Falcon, but you're looking out from that window array that we've all seen from the film. In order to pull off that effect – again, the capsule moves in conjunction with the imagery – you're looking out, basically, into a circular space, sort of a half dome."
That all aligns with what we've previously heard about this attraction and the fact that there are six seats in each cockpit even matches with the piece of concept art above.
For comparison's sake, seven pods running simultaneously and a three and a half minute ride cycle wouldmeans the attraction could have a maximum 840 riders per hour, which is about half of Pandora's Flight of Passage or 1/4th the amount of an old school ride like Pirates of the Caribbean. You know what that means: the lines for this thing are going to be out of control.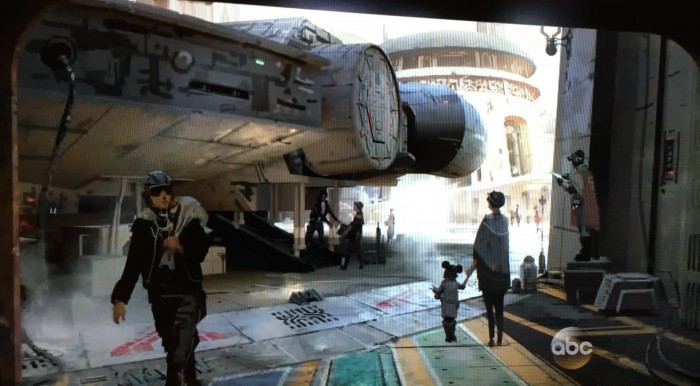 The Problem With Interactivity In A Theme Park Ride
Hill went on to talk a little about the interactivity that the team at Disney has envisioned for this ride:
"Initially...they wanted real interaction. They wanted, depending on which of the six seats you're occupying inside the Millennium Falcon, your actions directly impact what happens. To the point where if you don't do your job and the Millennium Falcon crashes, the ride is over."
The idea of the Falcon crashing may have been floated in a very early iteration of the the experience, but at 2017's Star Wars Celebration, we learned that riders won't actually be able to crash the ship. But you could almost destroy it, which would have implications for the rest of your trip to Star Wars: Galaxy's Edge.
A Disturbance in the Force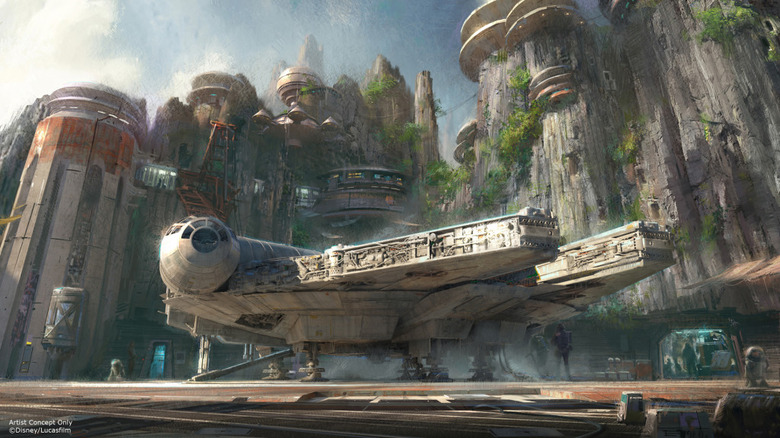 Ironically, it's the attraction's innovative interactivity that's proving to be a thorn in Disney's side at the moment. Hill continued:
"If you know what you're doing, the re-rideability of the original version of the Millennium Falcon experience was insane. You could have multiple rides with infinite outcomes. But the problem is, they've been doing the play-testing in and around Glendale. They've been recruiting people to come in, and they've been making a point of, initially they were bringing groups of friends together, then they were bringing in individuals who don't know one another so it's not a question of if they could quickly build a team or assign roles or that sort of thing. What they're finding is it's frustrating people more than it's entertaining people."
Unless you're at the park with a group of five friends, you're going to be mixed in with another party on this ride – and there's no guarantee those people will be adept at performing the individual roles required for "flying" the ship. Imagine how angry you would be if you stood in line for hours only to have someone not even in your group who has been paired up to your ride vehicle, to completely destroy the ship while piloting the attraction. Disney isn't interested in hearing complaints all day from pissed off tourists – they want everyone to be happy so they'll pay exorbitant amounts of money to come back and do it all over again. And as we've written about previously, what happens on your flight will have ripple effects that follow you throughout the park. That raises the stakes for each rider.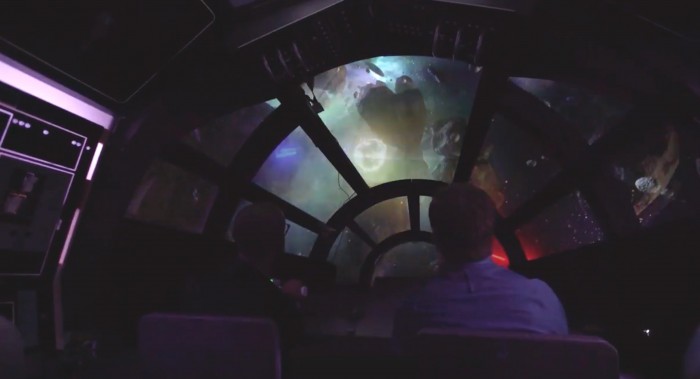 Problem Solving
"This is not a happy moment," Hill says. "They are now having to retrofit after the fact, and the computing power that's involved in controlling this imagery is Pentagon-level stuff."
"The worry right now is they've delivered an amazing ride experience for ten percent of the guests, and the other ninety percent are going to have, whether it's tech issues or they're going to be frustrated with the other people in the cabin who aren't holding up their end...there's some tweaking going on."
As for how much time Disney has to make those tweaks, Hill says he's hearing that the construction team wants to finish the park by the end of April so there's enough time to train the staff and get annual pass holders an early look before the grand opening next summer. If you're basing a ride experience around the concept of true interactivity, how can you ensure a pleasant experience for everyone? That's a tough question – maybe an impossible one – and Disney has a few months left to figure out the answer.