'Game Of Thrones' Season 8 May Not Arrive Until Summer 2019, But See A Brief Snippet Of Footage Now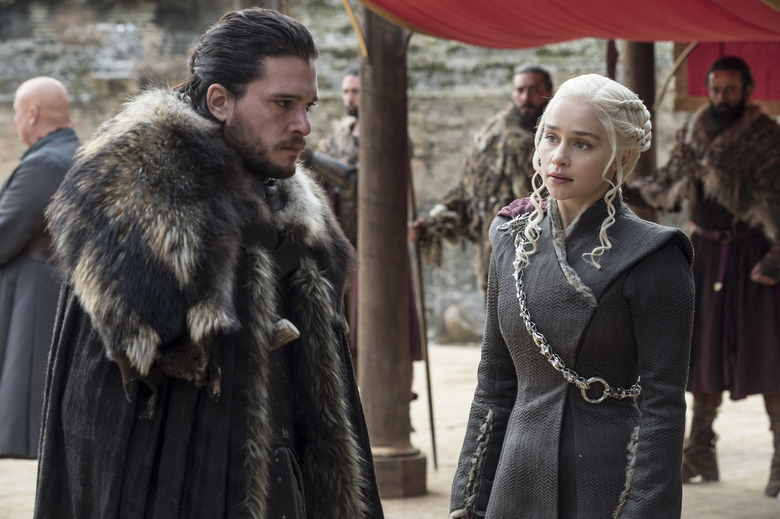 Back towards the beginning of the year, we learned the Game of Thrones season 8 premiere wouldn't arrive until sometime in 2019. This is the final season of the HBO epic fantasy series, and even though it will be shorter than the previous season, it will have expensive, movie-length episodes. Because of that, the final season might not debut until later than fans were expecting.
Game of Thrones fans have been counting on HBO bringing the series back to a traditional spring debut after the previous seventh season arrived last summer. However, it sounds like the Game of Thrones season 8 premiere will likely not debut until the summer of next year. Thankfully, a small snippet of footage has arrived to help ease the anticipation.The Huffington Post recently spoke to visual effects supervisor Joe Bauer about his work on the show, and a reference he made to when the series will be eligible for Emmy nominations again appears to hint at a later debut for the final season of Game of Thrones. Bauer said, "In two years we'll be eligible for the Season 8 work, which we're just beginning now." So how does that hint at a summer 2019 premiere for Game of Thrones?
In order for a show to be eligible for the Emmy nominations next year, it must air a majority of its episodes by May 31. So if Bauer is saying they won't be eligible for Emmys for two years, in 2020, that likely means most of the final season of Game of Thrones will not have aired before the deadline. So the earliest the Game of Thrones season 8 premiere could be is mid-May, making a debut in April unlikely.
If you need further confirmation of Game of Thrones taking a little longer to kick off the final season, Bauer added, "We're going to be toiling away on Season 8 until May of 2019, so it's eight or nine months away." That makes a summer debut pretty likely, and while the news is probably a bit of a bummer for Game of Thrones fans, it's likely only an extra month or two they'll have to wait.
In the meantime, check out a very small bit of footage from the final season in this recently released HBO promo and speculate away about what these dramatic glances from Kit Harington and Sophie Turner means for the eighth season of Game of Thrones: