Cool Stuff: James Bond's Aston Martin DB5 From 'Goldfinger' Is Being Manufactured With Gadgets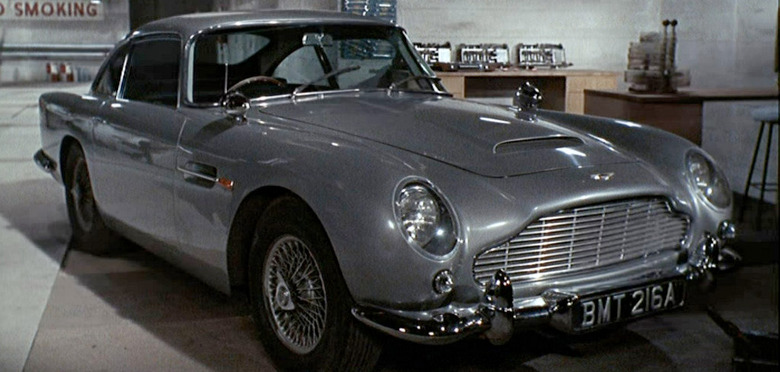 Fans of the James Bond franchise have always dreamed of seeing some of the secret agent's more unbelievable gadget become a reality, especially when it comes to the armored, weaponized and gadget-filled cars 007 gets to drive. Now one of them will be officially manufactured, and it will include some of the gadgets from the big screen.
James Bond's iconic 1964 Aston Martin DB5 that first appeared in Goldfinger will officially be manufactured by the car company. But this isn't simply a recreation of the classic car that looks like 007's ride. This extremely limited and expensive edition of the James Bond Aston Martin DB5 will come with some of the gadgets installed by Q Branch.
News of the James Bond Aston Martin DB5  comes from the car company itself, who will be creating 25 new editions of the car that will be available for sale to anyone who has £2.75m (or $3.5 million) plus taxes to spare. On top of that, three more will be manufactured for James Bond producers EON Productions and Aston Martin themselves, as well as one more that will be auctioned off for charity. Here's what Andy Palmer, President and Chief Executive Officer of Aston Martin, had to say about the initiative:
"The connection between Aston Martin and James Bond is something of which we are very proud and it is remarkable that the DB5 remains the definitive James Bond car after so many years. To own an Aston Martin has long been an aspiration for James Bond fans, but to own a Silver Birch DB5, complete with gadgets and built to the highest standards in the very same factory as the original James Bond cars? Well, that is surely the ultimate collectors' fantasy. The skilled craftspeople at Aston Martin Works and the expert special effects team from the James Bond films are about to make this fantasy real for 25 very lucky customers."
For all you gearheads out there, the James Bond Aston Martin DB5 will comes with a straight-six, 282 horsepower, 3,995cc motor that will allow a top speed of 145 mph and 0 to 60 time of 7.1 seconds. However, anyone who buys this won't necessarily be showing off this car for everyone to see out on the road. Since the Aston Martin will be coming with some of the gadgets from the movie, with the revolving license plate being the only specific one named in the press release, this car won't be street legal.
This is clearly meant for only the super rich car collectors and hardcore James Bond fans out there. Will any of them be daring enough to drive it around illegally? Or will it just sit in upscale garages around the world? Only the rich bastards lucky enough to get one know the answer. Of course, you could always buy the LEGO version of the famous car for a much lower price.