New 'Stranger Things 2' Featurette Focuses On Working With The Duffer Brothers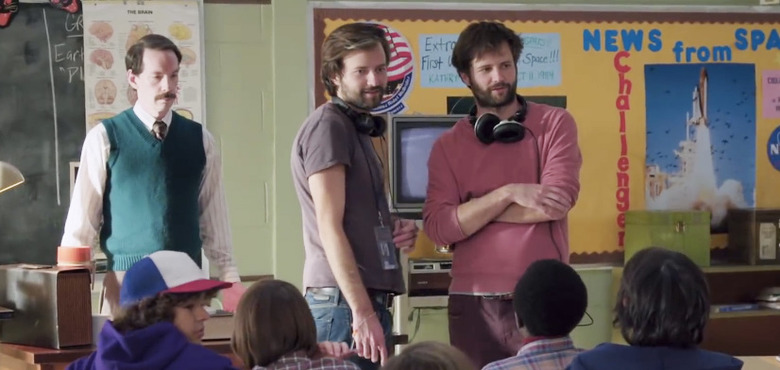 Since we still have a long wait before Stranger Things 3 arrives in the summer of 2019, Netflix is trying to hold fans over with a series of featurettes that go behind the scenes of the second season of the streaming service's sci-fi sensation. And the latest highlights the shows twin brother creators.
Matt & Ross Duffer made a major breakthrough and became well-known names with the creation of Stranger Things. It's easily one of the most popular properties on any platform right now, and a new Stranger Things 2 featurette talks to the cast and crew of the series to find out what it's like to work with the sibling duo, and the brothers themselves provide some insight into the making of the series too.
Stranger Things 2 Duffer Brothers Featurette
Both executive producer Shawn Levy and series star Millie Bobby Brown refer to Matt & Ross Duffer as feeling like their brothers while Finn Wolfhard says working on Stranger Things with the duo is like being at summer camp with all your friends. Meanwhile, David Harbour and many of the crew members compliment them as amazing storytellers and the superpower that makes Stranger Things special.
In the case of Stranger Things 2, the Duffer brothers approached this season like a blockbuster movie sequel. They wanted to up the ante as far as the scale of monster mayhem goes and deliver something that built on what they had established in the smaller scale first season.
Part of this featurette feels a little like damage control after allegations of verbal abuse from the duo emerged online back in March. After all, having the cast and crew sing the praises of the Duffer brothers would help sweep any conflicting perspectives under the rug a bit. But on the other hand, it's also just an innocent featurette showing why Stranger Things has become one of the biggest hits in the era of streaming subscription services.
Right now Matt & Ross Duffer are busy getting Stranger Things 3 together, and fans couldn't be more excited. Most recently we found out that this season draws a certain influence from the Chevy Chase comedy Fletch, but we can only speculate as to how that film will attribute to the tone and style of Stranger Things 3.
While you wait for Stranger Things 3, be sure to check out the rest of the featurettes that have been released over the past few months, including one about how the series perfectly recreates the style of the 1980s and how the cast of the series came together to make this show such a hit.