John C. Reilly Hopes He Doesn't Age Out Of The Chance To Make 'Step Brothers 2'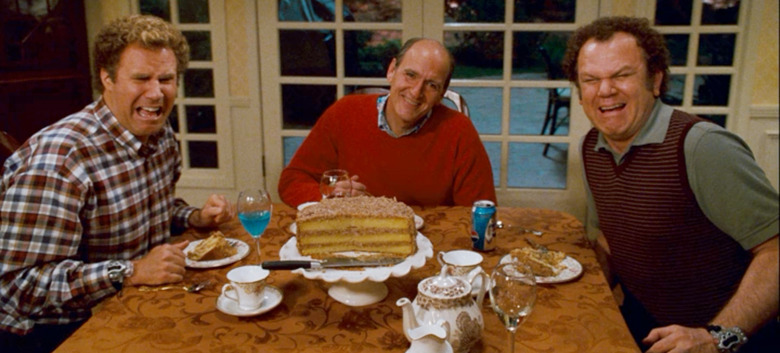 Next month, you can see John C. Reilly alongside Joaquin Phoenix in the western thriller The Sisters Brothers. But there's a different pair of brothers that fans would like to see back on the big screen.
Step Brothers, starring John C. Reilly and Will Ferrell as forty-something step brothers still living at home with their recently married parents, became a comedy hit back in 2008 with just over $100 million at the box office, but it's found even greater life in the years since. You can't go anywhere without hearing quotes from the movie, whether it's "Did we just become best friends?" or "It's the fuckin' Catalina Wine Mixer." And because of that, fans have wanted a sequel.
John C. Reilly isn't quite as enthusiastic as viewers when it comes to sequels in general, but he still hopes that he doesn't age out of the chance to make it happen with his buddy Will Ferrell and the increasingly eclectic director Adam McKay.
Speaking with IndieWire, Reilly acknowledges how much the movie has resonated with audiences, but he doesn't give them much hope for a sequel, unfortunately:
"We've been talking about it pretty much since the first one came out. For most artists, sequels aren't the most attractive thing. Fans, of course, are different. If you like pizza, you want more pizza. I understand people really getting into the idea, but in terms of having something on the table, no, there isn't."
Last fall, Will Ferrell revealed that one of the ideas for Step Brothers 2 involved Brennan Huff (Will Ferrell) and Dale Doback (John C. Reilly) following their parents, played by Robert Jenkins and Mary Steenburgen, to a retirement community where they try to convince them that they earned the right to retire as well.
While that plot certainly sounds ripe with comedic possibilities, it does seem to undo the character arc that allowed the brothers to grow up a bit by the end of the first Step Brothers. But then again, the two are so immature, that it would stand to reason their brief time spent as actual working adults would give them a false sense of entitlement when it comes to retirement.
At the very least, that idea for Step Brothers 2 keeps the family dynamic intact, which Reilly thinks is what really made the first movie work so well:
"It's so funny, it's so broad, but at the core of it are these very real family issues, and I think that makes the movie really subversive in a way. t has staying power. You know, we really meant it when we made that movie. We weren't just trying to make people laugh. We really tried to commit to what it would be like to be 40 years old and living with your parents."
Even so, enough time has passed that the prospect of Step Brothers 2 is starting to grow beyond the possibility of living up to expectations. That's exactly what happened with Anchorman 2: The Legend Continues. While the sequel offers plenty of big laughs, it didn't quite capture the same lightning in a bottle that the first film did. But even so, Reilly still has some hope that the project comes together before the leads get too old:
"I hope I don't age out of the possibility. It might be really sad if we're like 60 years old and doing it."
In the meantime, we'll just have to hope that Step Brothers rap album that we heard about back in 2011 comes together. Otherwise, we'll see John C. Reilly and Will Ferrell back on the big screen together this fall in Holmes and Watson, a comedic take on the iconic detective duo created by Sir Arthur Conan Doyle coming to theaters on December 21, 2018.