Cool Stuff: Henry Jackman's 'Kong: Skull Island' Score Gets A Lava Vinyl Soundtrack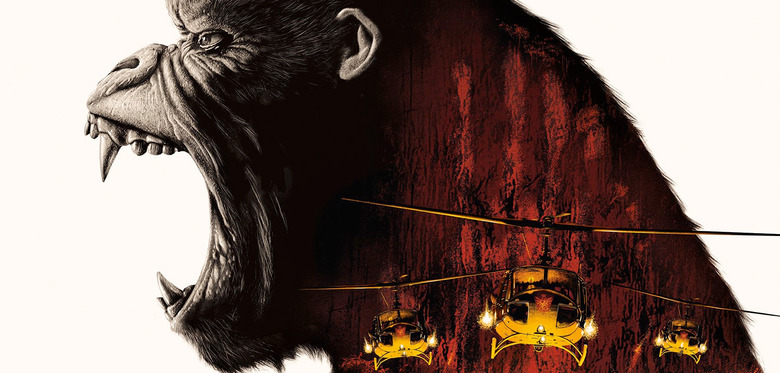 Next year we'll see Godzilla return to theaters along with a slew of classic monsters that we've yet to see on the big screen in the sequel to the franchise from Legendary Pictures. But in the meantime, we can enjoy the triumphant return of one of his foes in the gruesome monster movie Kong: Skull Island, and now you can partake in the film's menacing, bombastic score from a cool vinyl soundtrack release from Waxwork Records.
Kong Skull Island Vinyl Soundtrack
Waxwork Records has announced a deluxe double LP release of the Kong: Skull Island score composed by Henry Jackman (Captain America: Civil War, Wreck-It Ralph). The 1970s-inspired score fluctuates between electrifying guitar to booming drums to haunting strings to create a pulsing soundtrack that will sound absolutely incredible on vinyl.
This exclusive vinyl release features lava color vinyl records and a gatefold jacket with cover artwork by Andrew Swainson and an insert with art by JC Richard. It's a monstrous movie score, and this vinyl is a must-have for any cinephile who loves collecting their soundtracks in this format.
Here's the tracklist for the double LP Kong: Skull Island vinyl soundtrack:
Side A
South Pacific
The Beach
Project Monarch
Packard's Blues
Assembling The Team
Into The Storm
The Island
Kong The Destroyer
Side B
Monsters Exist
Spider Attack
Dominant Species
The Temple
Grey Fox
Side C
Kong The Protector
Marlow's Farewell
Lost
The Boneyard
Ambushed
Heart Of Kong
Side D
Man Vs. Beast
Creature From The Deep
The Battle Of Skull Island
King Kong
Monster Mash