'Crazy Rich Asians' Tops The Box Office While 'Billionaire Boys Club' Has An Embarrassing Debut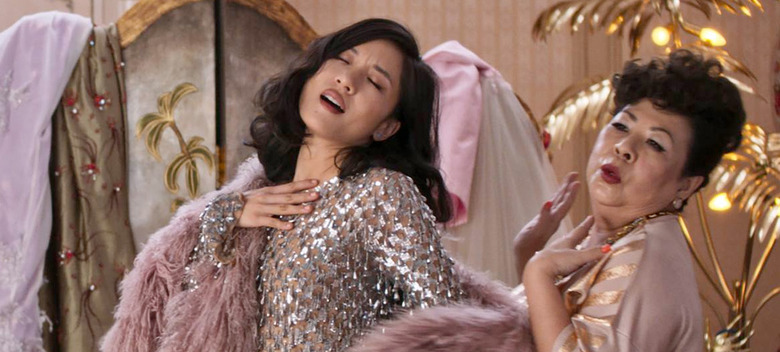 Last week The Meg overperformed at the box office, but this weekend, it's time for another title to shine as it swims past the prehistoric shark action thriller.
Warner Bros. Pictures' much buzzed about romantic comedy Crazy Rich Asians surpassed expectations by raking in $25.3 million at the box office from 3,384. That was enough to have it top The Meg, which raked in a respectable $21.5 million in its second weekend. However, not all movies were quite as lucky. Mark Wahlberg's action thriller Mile 22 opened below expectations while the specialty release Billionaire Boys Club had one of the most embarrassing box office debuts ever.
First up, Jon M. Chu's acclaimed romantic comedy is the first movie since The Joy Luck Club in 1993 to have a nearly all-Asian-American cast. The movie only cost $30 million to make, and excitement for the movie has been through the roof. Not only did audiences give the movie an A through CinemaScore, but the movie ended up with a 92% critical rating at Rotten Tomatoes. That helped push the movie to a total of $34 million domestically after taking into account sneak preview screenings from the week before and Wednesday preview night screenings.
The triumph of Crazy Rich Asians at the box office is a huge score for the romantic comedy genre. The last time a romantic comedy did this well at the box office, it was Trainwreck in the summer of 2015 opening with just over $20 million. It's a shame that the genre has gone by the wayside as the mid-budget studio film has slowly disappeared in recent years. But the success of Crazy Rich Asians might indicate a comeback is in store.
Furthermore, this is just more evidence that audiences are hungry for representation across the board. Black Panther was a huge success earlier this year. It ended up making over $700 million at the domestic box office, and it's only the third film to do so. While that kind of success is undoubtedly boosted by the Marvel Studios brand, the fact that no other Marvel movie has been able to reach that milestone shows just how much success came from the fact that this movie expanded the kind of representation that hasn't been as prominent as it should have been for years.
Meanwhile, it seems like the shoot'em up action that Mark Wahlberg wanted to deliver with director Peter Berg wasn't quite what audiences were looking for this weekend. Variety has Mile 22 opening in the #3 spot with $13.6 million from 3,482 theaters. That's not exactly a promising debut for what was meant to kick off a franchise of films, especially one that cost somewhere between $30 million and $50 million.
Finally, the last wide opener was the man vs nature drama Alpha, a story of survival about a boy and a wild wolf that would begin the long-lasting bond between man and dog. The film started getting pushed as a family film at the last minute to get audiences interested (even though it's more like The Revenant with a kid), but it only opened at #5 with $10.5 million in 2,719 locations. That's actually a bit above projections, but the movie has quite a climb to earn back its $50 million budget.
Billionaire Boys Club Has One of the Saddest Openings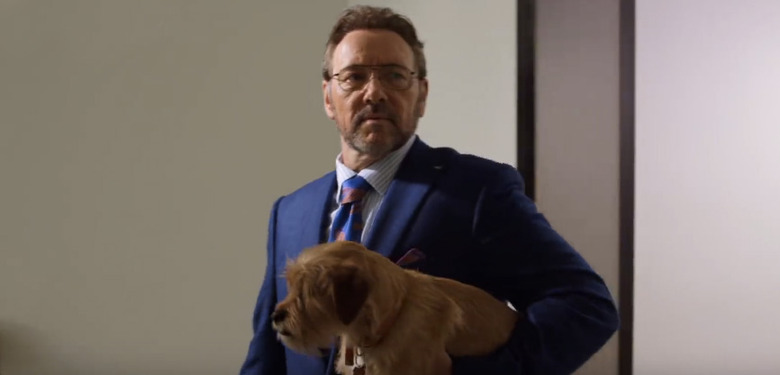 Meanwhile, the other remarkable story from this weekend's box office falls on the opposite end of success. You might not have realized it, but the movie Billionaire Boys Club opened this weekend in just eight theaters spread across the United States. So why didn't you hear about this movie starring Ansel Elgort, Taron Egerton, Emma Roberts, Jeremy Irvine, Cary Elwes, Judd Nelson and Billie Lourd? Because Kevin Spacey also stars in it, so no one cares.
Billionaire Boys Club is a box office casualty in the wake of disgrace that befell Kevin Spacey for his reprehensible acts of sexual misconduct that effectively ended his career towards the end of last year. The North American distributor Vertical Entertainment had to say to The Wrap about the matter after the trailer debuted earlier this year:
"We hope these distressing allegations pertaining to one person's behavior — that were not publicly known when the film was made almost 2.5 years ago — do not tarnish the release.
We don't condone sexual harassment on any level and we fully support victims of it. At the same time, this is neither an easy nor insensitive decision to release this film in theaters, but we believe in giving the cast, as well as hundreds of crew members who worked hard on the film, the chance to see their final product reach audiences.
In the end, we hope audiences make up their own minds as to the reprehensible allegations of one person's past, but not at the expense of the entire cast and crew present on this film."
But The Hollywood Reporter says the limited release of the film the only pulled in a total of $126 on Friday and $162 on Saturday. That's just $287 from 11 theaters. Estimates have the movie barely making $425 when all is said and done. That's $53 per screen, and taking into account the average price of a movie theater ticket ($9.27), that's about six people seeing the movie at each of those locations.
UPDATE: The final count for the opening weekend of Billionaire Boys Club was a pathetic $618. Even with that number, it still averages out to about six people seeing the movie at each of the scattered locations that were showing it. And depending on how many times a day the movie was shown, that likely means there were some showings of the movie that didn't have a single butt in the seats.
The movie has also opened on VOD, but those numbers haven't been presented just yet. This kind of release doesn't usually make a ton in theaters, but this kind of opening is particularly pathetic. Of course, the movie didn't have much of a marketing campaign since Kevin Spacey is prominent in the film, making it hard to sell without showing his face. Hopefully Kevin Spacey won't be showing his face again after this.