'Venom' And That Big Tongue Of His Are Going To Lap Up Boffo Box Office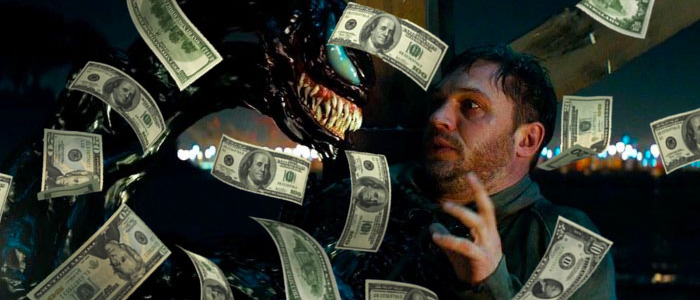 Reaction to Venom has been a bit muted, but the Spider-Man spin-off is on track to strike box office gold. Early Venom box office projections indicate the anti-superhero film might just break some box office records when it hits theaters in October. 
Will Venom and his tongue lick the competition, or will the film drift into obscurity like a turd in the wind? I felt almost positive that Venom was going to underperform box office-wise, simply because the trailers have been lackluster and I haven't encountered anyone who seems genuinely excited for the flick. But hey, I've been wrong before. And Box Office Pro is indicating I might be wrong here, too. The site says Venom is on track for a $55 – $85 million opening weekend, revised from $30 – $50 million.
This isn't an exact science, so the projections could be off. But statistics indicate interest in Venom has increased since the debut of the second trailed (the one with the turd line), and that if trends continue, "Venom could break the October record or even have a shot at becoming the first film to ever crack a $100 million+ debut in the month."
Venom Trailer
Per Box Office Mojo, the biggest October opening weekend currently belongs to Gravity, which took in $55,785,112. The second biggest is The Martian, with $54,308,575. These two coupled together might indicate audiences really like movies about space in October. But then you get to the third-best opening: Paranormal Activity 3, which scared up $52,568,183. Ultimately, this proves there's no real trend here, and anything goes.
Venom opens on October 5, which puts it up against the already much-buzzed-about A Star Is Born. Could the musical remake starring Bradley Cooper and Lady Gaga beat it? I wouldn't be surprised if that happened. A Star Is Born is playing film festivals soon, and festival hype might help put it over the top. Then again, A Star Is Born doesn't feature a big CGI tongue, so Venom has the edge there.
Other big October releases this year include First Man (October 12), Bad Times at the El Royale (also October 12), and Halloween (October 19). I expect all of those films will do well, but they likely won't top the previous October record holders. Opening Venom in October rather than the summer is likely to be a wise move on Sony's part. Had the film arrived during the crowded summer movie season, it might get lost in the shuffle. Instead, it's the only superhero-themed flick hitting multiplexes in October, giving it a leg up.
Again – all of this is just speculation. We can't say for certain what will become of Venom, but for now, things look promising for the latest Tom Hardy Does a Weird Voice movie.