'Star Wars Resistance' Trailer: A New Animated Resistance Hero Takes To The Skies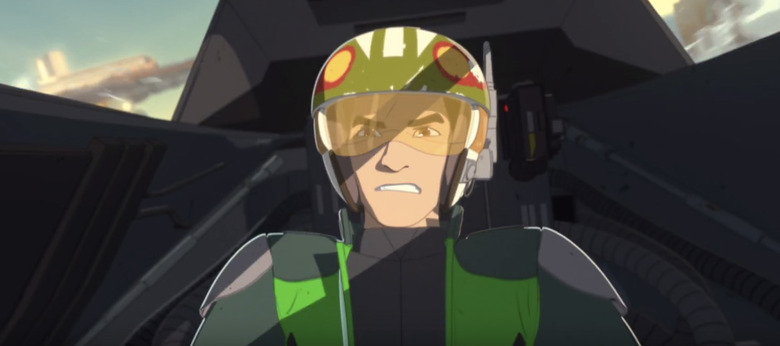 The first Star Wars Resistance trailer has arrived, giving us a first look at the anime-inspired animated series coming to The Disney Channel this fall and providing us with a whole new roster of Resistance heroes to root for. Check it out below.
Star Wars Resistance Trailer
New details have arrived along with the trailer, which teases the one-hour premiere titled "The Recruit." In this episode, Poe Dameron (voiced by Oscar Isaac) and his trusty droid BB-8 usher in a newly appointed spy named Kaz to the Colossus, a massive aircraft re-fueling platform on an outer rim water planet, home to colorful new aliens, droids, and creatures. We'll let the official press release explain more:
"While undercover, Kaz works as a mechanic and lives with Poe's old friend Yeager, a veteran pilot who operates a starship repair shop run by his crew: Tam, Neeku and their old battered astromech droid, Bucket. Kaz soon finds himself in over his head with his newfound friend BB-8 as he'll have to compete in dangerous sky races, keep his mission a secret from his newfound family, and avoid the danger of the First Order."
This series has some flairs of Star Wars Rebels, complete with a colorful new ensemble crew to lead the series. But it's the animation style that makes this one stand out. It's a mix of 3D animation and anime-style design that calls back to shows like Robotech. It might take some getting used to when you start watching.
Star Wars Resistance hails from Dave Filoni, creator of the animated Star Wars Rebels, and this one has a personal touch thanks to his grandfather. Filoni previously said:
"The idea for Star Wars Resistance came out of my interest in World War II aircraft and fighter pilots. My grandfather was a pilot and my uncle flew and restored planes, so that's been a big influence on me. There's a long history of high-speed racing in Star Wars, and I think we've captured that sense of excitement in an anime-inspired style, which is something the entire team has been wanting to do for a long time."
The Star Wars Resistance voice cast includes Christopher Sean (Days of Our Lives), Suzie McGrath (East Enders), Scott Lawrence (Legion), Myrna Velasco (Elena of Avalor), Josh Brener (Silicon Valley), Donald Faison (Scrubs), Bobby Moynihan (DuckTales), Jim Rash (Community), and Rachel Butera (Tammy's Tiny Tea Time).
Here's the official synopsis for the series:
Resistance fighter Poe Dameron tasks young pilot Kazuda "Kaz" Xiono with spying on the First Order. At the time, little was known about the secretive organization and its strength.
In order to fulfill his mission, Kaz travels to the space station Colossus, which is being used by many ships as a port to refuel and do repairs. However, there are also dangerous races taking place there. After Kaz bragged with his piloting skills at his arrival there, he is soon drawn into one of the races...
Star Wars Resistance comes to Disney Channel with a one-hour premiere at 10pm (ET/PT) on October 7, 2018.