'The Happytime Murders': Watch An Infomercial, No Talking PSA & Puppets Reading Reaction Tweets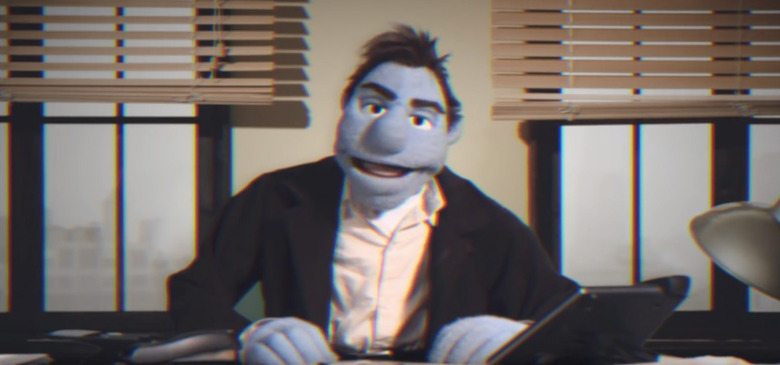 The Happytime Murders is only a couple weeks away from release, and the marketing campaign is finally ramping up to remind people that this raunchy puppet comedy is on the way. A short new red band trailer
, now a batch of new videos featuring these filthy puppets has surfaced online.
First up, detective Phil Philips, one of the puppets assigned to a string of puppet murders, has quite the professional commercial for those in search of a private eye. Plus, check out a new PSA for the Alamo Drafthouse featuring a drug addicted puppet begging you to stop talking in theaters, and watch puppets read tweets reacting to the film's red band trailer.
The Happytime Murders Infomercial
Here's Phil Philips letting everyone know about his legal services. As you can see, he has more than several years of experience. Plus, he can help you with stuff that no other detective will even touch, like involuntary de-felting, googly eye theft, lost virginity, the second season of Lost, kids napping, whiffleball injuries, puppets over the influence, and missing Czechs. That's a great detective.
Happytime Murders Puppets Read Tweets
When the first red band trailer for The Happytime Murders came out, everyone who wasn't laughing was horrified. And the puppet stars of the movie have been tasked with reading some reaction tweets to remind people of just how inappropriate and raunchy this movie is going to be.
Don't Be a Movie Fucker
Finally, if you go see The Happytime Murders in theaters later this month, listen to Goofer and don't turn into a Movie Fucker. That's one of those people who won't shut up in a movie theater and can't put their phone away. Seriously, folks, don't be a Movie Fucker, or you might end up being a dirty puppet like Goofer, and no one wants that.
Brian Henson, son of Jim Henson, directs The Happytime Murders, which also features human stars Melissa McCarthy, Joel McHale, Maya Rudolph and Elizabeth Banks.
No Sesame. All Street. The Happytime Murders is a filthy comedy set in the underbelly of Los Angeles where puppets and humans coexist. Two clashing detectives with a shared secret, one human (Melissa McCarthy) and one puppet, are forced to work together again to solve the brutal murders of the former cast of a beloved classic puppet television show.
The Happytime Murders arrives on August 24, 2018. Check out our
.