'Saturday Night Live' Featured Player Luke Null Not Returning For Season 44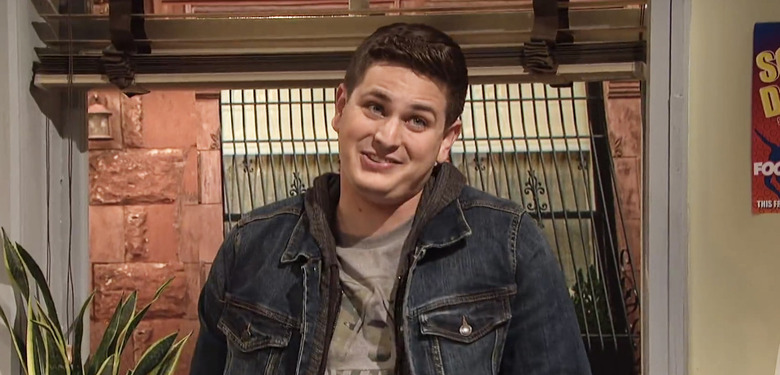 Saturday Night Live will return for its 44th season this fall, and we'll be reviewing every new episode as they come along. But one featured player who joined the cast last year won't be returning with everyone else.
Chicago comedian Luke Null, who joined the cast at the beginning of the late night sketch show's 43rd season last fall, has been let go from Saturday Night Live. If you hear that name and your first thought is "Who?" that's exactly why he won't be coming back to the staple comedy series.
Even though Luke Null being fired was just confirmed by Vulture, yours truly predicted this would happen back in March:
I'm calling it now: Luke Null is the new Brooks Wheelan on SNL, and he probably won't be back next season. He's a funny guy, but he just doesn't mesh well with SNL.

— Ethan Anderton (@Ethan_Anderton) March 18, 2018
Luke Null isn't an unfunny comedian by any means, but he just so happens to be one of those cast members who didn't jibe well with what SNL tries to do every week. Null only had a handful of sketches that felt attuned to his comedy style, and even those were not warmly received. Easily the best thing Luke Null did all season was the sketch below, but it's something that feels painfully awkward the whole way through until the payoff towards the end. Watch and you'll see what I mean.
While being let go from Saturday Night Live probably isn't easy, this doesn't exactly spell doom for Luke Null on the comedy scene. Plenty of comedians have been part of the SNL cast and let go after one or two seasons but still go on to have solid careers in film and television. Hell, some of them have gone on to become certified stars. Jenny Slate, Michaela Watkins, Rob Riggle, Sarah Silverman, Joan Cusack, Ben Stiller, Laurie Metcalf, Martin Short, Billy Crystal and Robert Downey Jr. were all fired from SNL. So hopefully Luke Null isn't kicking himself too hard.
Luke Null has still made a decent name for himself, even if he didn't become a household name like some of the fan favorite cast members of SNL. But he can still use this year spent at SNL to improve his own comedy, leverage roles in film and TV, and hopefully return to the Chicago comedy scene with his head held high. Just getting hired by SNL is a big deal, and we should never forget that.
We'll be back this fall whenever the 44th season of Saturday Night Live begins, but there isn't a premiere date just yet. We'll let you know when we hear about the show's return, who the host will be, and if any new cast members will join.