'Iron Fist' Season 2 Trailer: Danny Rand Is Back And His Show Looks Better Now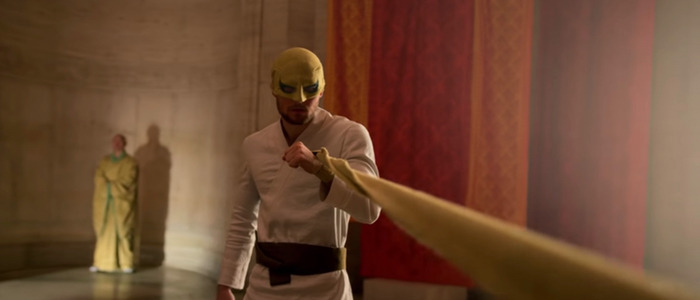 Marvel and Netflix's most disposable superhero is back for Iron Fist season 2. Once again, Danny Rand, AKA the Immortal Iron Fist, fires up his hand and punches the hell out of people. And this time, he gets to wear a costume inspired by his comic book counterpart. Watch the Iron Fist season 2 trailer below.
Iron Fist Season 2 Trailer
The first season of Iron Fist didn't go over so well – at least, not as well as the other Marvel Netflix shows. Maybe season 2 will work better? The trailer above certainly has enough action to hold your attention, but Danny Rand remains a bit of a wet blanket of a character. Finn Jones is trying his best, but it's really the character himself that's the problem. I will say that Danny worked a lot better in The Defenders, where he was treated as a kind of comic relief – the one member of the team everyone else was constantly dunking on.
Season 2 finds Danny having to deal with the villainous Davos (Sacha Dhawan), who also has Iron Fist powers – only his fist glows red, so you know he's the bad guy. The real draw here, though, is the potential for more team-work between Colleen Wing (Jessica Henwick) and Misty Knight (Simone Missick). The two had their own comic series together – Daughters of the Dragon – and Luke Cage season 2 gave us a pretty great scene where Colleen and Misty banded together to kick the shit out of a bunch of dopes in a bar. Give us more of that, Netflix. Please.
Other characters returning for season 2: Jessica Stroup as Joy Meachum and Tom Pelphrey as Ward Meachum. Alice Eve is a new addition to the group as villain Typhoid Mary, who – in the comics at least – possesses "psionic powers, including telekinesis." She's also crazy, so there's that.
Overall, this trailer looks like an improvement over season 1. There are some cool action beats here – Danny punching that truck to smithereens looks pretty darn neat. The series has a new showrunner – Raven Metzner – who will perhaps bring something fresh to the proceedings.
Iron Fist season 2 pummels its way onto Netflix on September 7, 2018.
Billionaire Danny Rand (Finn Jones) returns to New York City after being missing for years, trying to reconnect with his past and his family legacy. He fights against the criminal element corrupting New York City with his martial arts mastery and ability to summon the awesome power of the fiery 

Iron

 

Fist

.