Live-Action 'Aladdin' Remake Gives Aladdin And Jasmine A New Duet, Along With A Whole New World Of Original Songs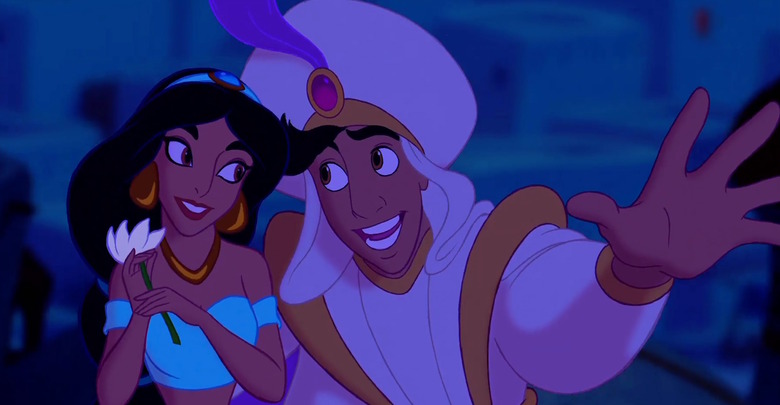 When we learned that La La Land and The Greatest Showman maestros Benj Pasek and Justin Paul were on board to pen new songs for Guy Ritchie's live-action remake of Aladdin, we knew were in for a whole new world of great music. But can they live up to the renown of Alan Menken's masterful songs for the 1992 animated film? Apparently, Pasek and Paul are eager to try.
In their short careers, Oscar, Tony, and Grammy-nominated songwriters Pasek and Paul have made a name for themselves as some of today's most promising composers with a knack for crowd-pleasing earworms. And an earworm is something they'll have to write to compete with the iconic, Oscar-winning Aladdin soundtrack composed by Menken and written by Howard Ashman and Tim Rice.
For their first big task, Pasek and Paul have chosen to go up against "A Whole New World," the romantic duet between Aladdin and Jasmine that every '90s kid came out of the womb knowing all the words to. The songwriting duo wrote a new duet for Aladdin and Jasmine, they told Variety. "It's a sweet song," Paul said.
Sweet is nice, but can it match up with the heavyweight of all Disney songs? That's yet to be seen.
But Pasek and Paul aren't about to discard Menken's masterwork. In fact, they're working with the Disney legend himself to compose the new Aladdin songs. It'll be a unique blend of Menken's signature Disney sound with Pasek and Paul's poppy style. And it will be anchored by the new stars Mena Massoud and Naomi Scott, who play Aladdin and Jasmine, respectively. Paul gushes over Scott in particular, whose Jasmine gets a new solo song penned by Pasek and Paul and composed by Menken.
"Alan wrote a beautiful piece of music and [Scott] is incredible," Paul said.
But perhaps the most exciting part of Pasek and Paul's collaboration with Menken is that they get to improve on the less...tasteful parts of the original film. The original "Arabian Nights" has had some cause for controversy, with verses like "it's barbaric, but hey, it's home" (altered from an even more racist original lyric) coming off as offensive at best, racist at worst. But Pasek and Paul will write a whole new verse for "Arabian Nights," which will hopefully have none of the stereotypical shades of the original.
The live-action Aladdin, directed by Ritchie from a script by John August, also stars Will Smith, Billy Magnussen, Nasim Pedrad, and Marwan Kenzari.
Aladdin is set to open in theaters on May 24, 2019.