'Widows' Trailer: Viola Davis And Her Crew Have A Score To Settle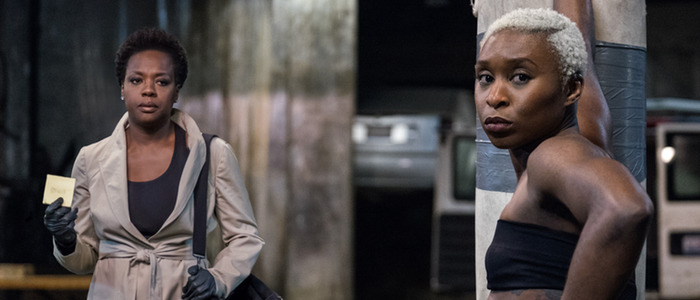 Steve McQueen puts together one killer crew for Widows, a thriller that finds the wives of dead criminals banding together to pull off one big heist. With a cast featuring Viola Davis, Michelle Rodriguez, Elizabeth Debicki and Cynthia Erivo, and a script from Gone Girl writer Gillian Flynn, Widows looks like a must-see. Watch the new Widows trailer below.
Widows Trailer
"No one thinks we have the balls to pull this off!" Viola Davis snarls at the end of this Widows trailer, and if that doesn't sell you on this film, I don't know what will. 12 Years a Slave director Steve McQueen and Gone Girl and Sharp Objects writer Gillian Flynn team to adapt the six-part British television show of the same name into a modern-day thriller, and it looks pretty damn great. McQueen is a remarkable filmmaker, responsible for highly engrossing dramas like Hunger and Shame. And screenwriter Flynn's screenplay adaptation of her own novel Gone Girl is remarkable. The author was able to trim the book down without losing what made the story work. This duo working together here is intriguing.
Even if the film's premise – a group of criminal's widows getting together to pull of a score – didn't sound cool enough on its own, Widows has a pretty amazing cast to boot. In addition to Davis, Rodriguez, Debicki and Ervo, the film stars Colin Farrell, Brian Tyree Henry, Daniel Kaluuya, Garret Dillahunt, Carrie Coon, Jacki Weaver, Jon Bernthal, Manuel Garcia-Rulfo with Robert Duvall and Liam Neeson.
Widows reunites McQueen with 12 Years A Slave producer New Regency. "Steve was interested in doing his own version of a gangster film," said New Regency president and CEO Brad Weston. "It felt fresh to him to combine a contemporary, hard-hitting, very grounded gangster movie with four strong female characters. We loved it because that's who Steve is. He sees things differently."
I like this trailer a bit more than the previous one, and all the ingredients are here to make something great. At the same time...it feels like something is missing. My guess is this is due to selective editing for the trailer; there's likely a lot more going on in this movie than this trailer – which is designed to draw in a general audience – is selling. I have faith enough in the team behind this film to think they're going to deliver in the end.
Widows will play at TIFF next month before opening on November 16, 2018.
From Academy Award-winning director Steve McQueen ("12 Years a Slave") and co-writer and bestselling author Gillian Flynn ("Gone Girl") comes a blistering, modern-day thriller set against the backdrop of crime, passion and corruption. "Widows" is the story of four women with nothing in common except a debt left behind by their dead husbands' criminal activities. Set in contemporary Chicago, amid a time of turmoil, tensions build when Veronica (Oscar winner Viola Davis), Linda (Michelle Rodriguez), Alice (Elizabeth Debicki) and Belle (Cynthia Erivo) take their fate into their own hands and conspire to forge a future on their own terms. "Widows" also stars Liam Neeson, Colin Farrell, Robert Duvall, Daniel Kaluuya, Lukas Haas and Brian Tyree Henry.