'All About Nina' Trailer: Mary Elizabeth Winstead Is A Struggling Stand-Up Comedian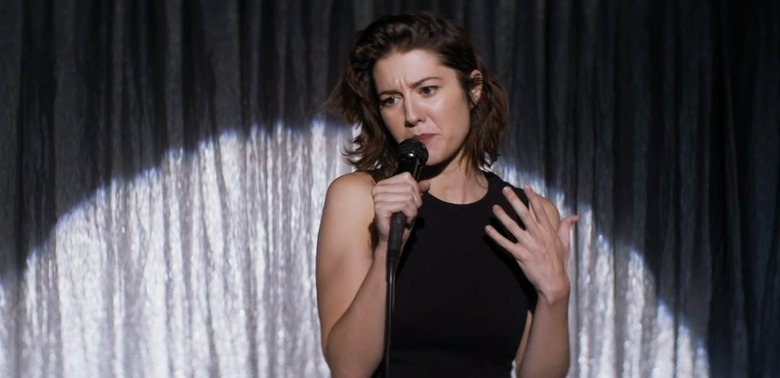 Mary Elizabeth Winstead has enjoyed quite the eclectic career in film, ranging from indie roles in the likes of Smashed and Swiss Army Man to more mainstream flicks like Live Free or Die Hard, 10 Cloverfield Lane and Scott Pilgrim vs the World. More recently she's been comfortable on television with a role in FX's series adaptation of Fargo, but this fall, she returns to theaters as a stand-up comedian.All About Nina follows Mary Elizabeth Winstead as a blunt, struggling stand-up comic who covers all the usual rough and tumble about life and relationships. And we get to see all the highs and lows of this life from a troublesome and abusive boyfriend (Chace Crawford) to a new love interest (Common) that she seems likely to screw up somehow.
Watch the All About Nina Trailer
Entertainment Weekly debuted the trailer. This film from writer/director Eva Vives looks like a typical indie about a lost thirtysomething trying to fix herself, but there is something to be said about how charming and lovely Mary Elizabeth Winstead can be. Plus, Common is apparently outstanding in this movie, as evidenced by a quote in the trailer calling him "utterly charismatic" from our own Hoai-Tran Bui, who caught the film at Tribeca earlier this year.
My biggest concern is whether or not Winstead is believable as a stand-up comedian with no background in it. But our review specifically says, "Vives' screenplay sings with a real raunchy, aggressive humor, and Winstead delivers each punch line with aplomb. She gamely dives into the showman-y parts of this role, even serving up some stellar Bjork impressions." Thankfully, she balances this with an outstanding dramatic performance too. You can read more about that in our full review.
Here's the synopsis from Tribeca earlier this year:
Nina (Mary Elizabeth Winstead) isn't your typical brash stand-up comic. Her sets may be littered with frank sex talk, sarcastic cynicism, and vulgarity, but her act is no mere act. Having finally ditched her abusive lover (Chace Crawford), Nina hightails it to Los Angeles with the hope of finally making it big. Things begin to improve in her career, as well as in her love life—thanks to a new love interest, Rafe (Common)—but this hard-drinking heroine isn't sure she can handle stability. Despite her budding successes, Nina struggles to reconcile being authentic and happy in both her career and in her personal life.
All About Nina hits theaters on September 28, 2018.