'Arizona' Trailer: Danny McBride Murders His Way Through This Dark Comedy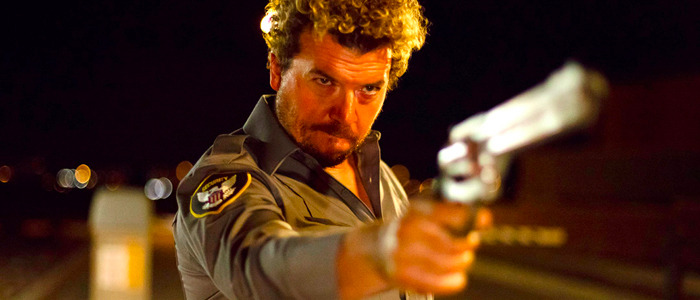 Danny McBride breaks bad with Arizona, a new dark comedy that finds the actor murdering his way through the dry desert heat. McBride plays a disgruntled home owner who kidnaps a real estate agent, played by Rosemarie DeWitt. Things go from bad to worse very quickly, while McBride quips his way through the bloodshed. Watch the Arizona trailer below.
Arizona Trailer
Danny McBride's career trajectory has been fascinating. While he's primarily known for his comedy work, and for popping-up in scene-stealing supporting roles, he's also branched out a bit. He appeared in Ridley Scott's criminally underrated Alien: Covenant, and he co-wrote the script for the upcoming Halloween. Arizona looks to find him back in the comedy zone – although it's clear the comedy on display here is of the super dark variety.
Arizona has McBride on a killing spree, although that doesn't stop him from minding his manners. I'm not really sure what to make of all this. McBride is generally great, as is co-star Rosemarie DeWitt. The rest of the cast is nothing to scoff at either: Luke Wilson, Kaitlin Olson and David Alan Grier all co-star.
But tone might be an issue here. It's very hard to balance dark comedy. The Coen Brothers are masters of it, but more often than not, other filmmakers falter. This is the feature debut of Jonathan Watson, and perhaps he'll surprise us all.
Our own Ben Pearson saw Arizona at Sundance, and had some positive things to say about it in his review. Sort of. "DeWitt, a capable character actress who hasn't led a movie in years, does the best she can with an underwritten role, making Cassie both mildly detestable and sympathetic," Ben wrote, adding: "McBride, meanwhile, is basically just doing his normal schtick; fans of his will probably dig it, though a few of those bros strike me as the types that will laugh just a little too hard when they see a woman hit in the head with a golf club in one scene."
Ultimately, Ben concluded his review stating: "I actually had some fun watching McBride's unhinged performance, and the ending is relatively satisfying, but at the end of the day, it just didn't add up to enough for me to be able to recommend it without hesitation."
Make of that what you will.
Arizona opens in theaters and on VOD & Digital HD August 24, 2018.
Cassie (Rosemarie DeWitt, La La Land) is a real estate agent and single mom struggling to keep it all together during the housing crisis of 2009. Her problems go from bad to worse when disgruntled client Sonny (Danny McBride, Pineapple Express) violently confronts Cassie's boss and then kidnaps Cassie – making one outrageously bad, and bloody, decision after another. Things completely spiral out of control in this explosive action comedy, also starring Luke Wilson (Idiocracy), Kaitlin Olson ("It's Always Sunny in Philadelphia"), David Alan Grier ("The Carmichael Show") and Elizabeth Gillies ("Dynasty").