Evangeline Lilly Doesn't Want The Wasp Going Solo, But She's All About A Female Superhero Team-Up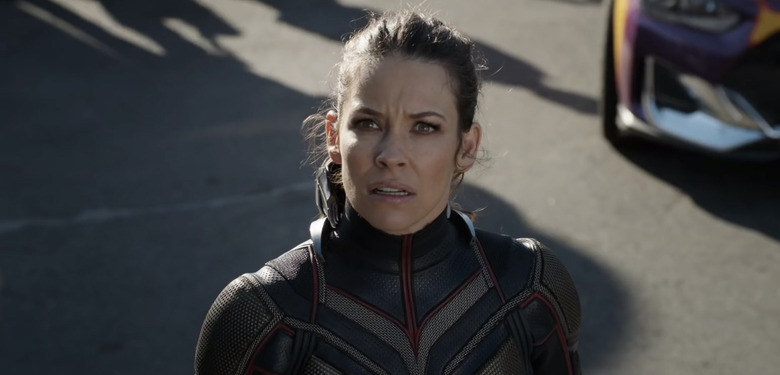 Ant-Man and the Wasp finally gave one of the female superheroes of the Marvel Cinematic Universe a proper leading role, with Evangeline Lilly suiting up as Hope Van Dyne, the more capable and experienced insect-inspired partner of Paul Rudd's Scott Lang. However, just because she's a big part of the Ant-Man movies, don't expect the Wasp to spin-off into a movie of her own.
Evangeline Lilly has been making the press rounds along with convention appearances, and while appearing at Fan Expo in Boston, the actress flat-out said she's not really interested in the Wasp starring in her own franchise. However, she's all about appearing in some kind of female superhero team-up movie in the Marvel Cinematic Universe.
ComicBookMovie.com was in attendance at Fan Expo Boston, and that's where Lilly had this to say about the prospect of the Wasp splitting off from Ant-Man for her own adventure:
"I actually don't like the idea of a Wasp standalone film, because Ant-Man and Wasp, since the very beginning in the comic books, were always a team. And really, they're kind of one of the only proper and true teams in the MCU, otherwise it's mostly a lot of individuals. And I love the team aspect of it, I love watching the interplay between Wasp and Ant-Man and Ant-Man and the Wasp. For me it's the most fun part of the film."
While it's true that the Wasp is consistently teamed up with Ant-Man, that doesn't mean she can't be a solo superhero. After all, Black Widow has always been part of SHIELD or teamed up with Hawkeye, but Scarlett Johansson will be starring in a movie focused on the spy sometime in the near future. But if Evangeline Lilly isn't interested and Marvel Studios doesn't have any plan for a solo spin-off, then it's likely not in the cards for the time being. But there is one spin-off Evangeline Lilly would love to be part of, and she wouldn't need to bring Ant-Man with her.
Evangeline Lilly Down for a Female Avengers Ensemble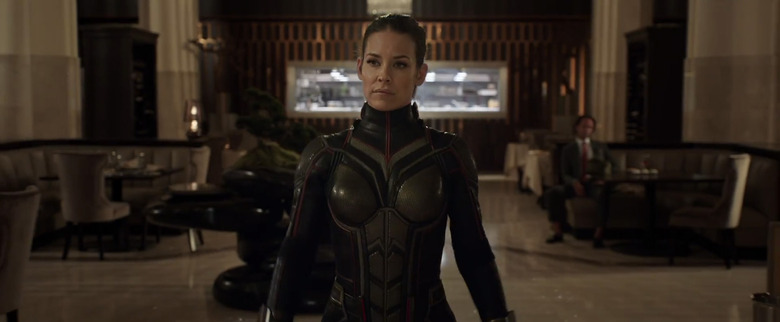 While making press rounds for Ant-Man and the Wasp, which only just recently opened in the United Kingdom and other European markets due to a delay caused by the World Cup, Evangeline Lilly said that she would love to lead a female assembly of superheroes in the Marvel Cinematic Universe. But then she got cold feet and realized how terrifying that would be. But she's on board to follow another upcoming superhero into battle (via PopBuzz):
"Well, it seems only natural Captain Marvel would lead because she is a general? And she's the captain. And Captain America leads the other Avengers, right, so maybe Captain Marvel would lead. I'd think so."
Is she a general or a captain? I mean, it's right there in the name. But we'll cut Evangeline Lilly some slack. She follows up by saying, "I think I'm being a bit old-fashioned and maybe a bit rigid about this. Because if it is an all-female Avengers film, then then the sky's the limit. We can reinvent the wheel. We don't have to do anything anyone's ever done before. We can just make it all up and change the game."
Getting a female team of Avengers together sounds like exactly what the MCU needs sooner rather than later.