'Green Book' Trailer: Viggo Mortensen And Mahershala Ali Go On A Life-Changing Road Trip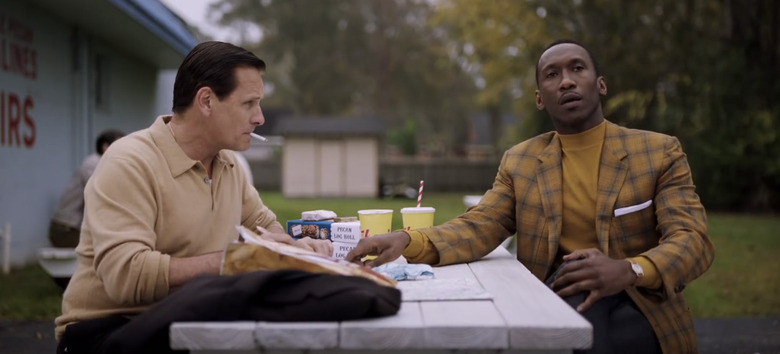 The idea of a road trip bringing about some kind of life-changing experience in characters is quite the cliché on the big screen. But that doesn't mean it can't be done well. And that's exactly what comedy director Peter Farrelly looks to be doing with his first foray into drama.
Green Book tells the true story of a working class Italian bouncer named Tony (Viggo Mortensen) who gets hired as the driver and security for black classical pianist Dr. Don Shirley (Oscar winner Mahershala Ali of Moonllight) as he takes a tour of venues on the South side of the Mason-Dixon line in 1962. The result is a friendship that gives each of these travelers a little perspective on the world around them. Watch the first trailer below to see what we're talking about.
Watch the Green Book Trailer
While this does feel like a kind of self-important Oscar-hungry movie, you couldn't ask for a more timely story, despite (or maybe because of) the fact that this one is set in the South in 1960s. Plus, the performances put in here by Viggo Mortensen and Mahershala Ali certainly look award-worthy, even if the movie feels like a remake of Driving Miss Daisy in a lot of ways.
What's most surprising is that this hails from Peter Farrelly, the co-director of screwball comedies like Dumb & Dumber, There's Something About Mary and Me, Myself & Irene. That might be why the drama feels a little hammy, but there is some level of authenticity and charm to the proceedings that make it feel far less desperate for accolades than something like Welcome to Marwen. Perhaps that's why this swapped release dates with the Robert Zemeckis movie a little while back.
The script comes from actors Nick Vallelonga and Brian Hayes Currie, neither of whom have tackled a movie of this kind before. Perhaps this surprising assembly of talent has churned out one of the gems of this year's awards season. But it's too early to know for sure, so stay tuned.
In the meantime, here's the official synopsis for the movie.
When Tony Lip (Viggo Mortensen), a bouncer from an Italian-American neighborhood in the Bronx, is hired to drive Dr. Don Shirley (Mahershala Ali), a world-class Black pianist, on a concert tour from Manhattan to the Deep South, they must rely on "The Green Book" to guide them to the few establishments that were then safe for African-Americans. Confronted with racism, danger—as well as unexpected humanity and humor—they are forced to set aside differences to survive and thrive on the journey of a lifetime.
Green Book hits theaters starting on November 21, 2018.