MoviePass Resubscribing Customers Who Canceled Their Subscription, Preventing Cancellation Again [Updated]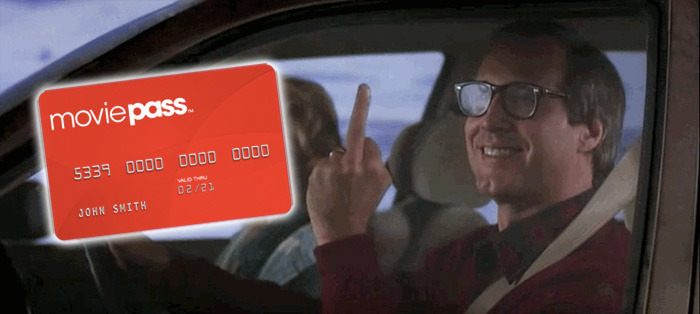 Update: It seems that Costo will accept returns on any one-year MoviePass subscriptions purchased in their stores. We have added the details below.
Just when you think MoviePass can't sink any lower, they go and do something like this.
Last week, MoviePass unveiled their new subscription plan, which is becoming their only subscription plan and goes into effect this week on August 15. Instead of the subscription giving customers one movie ticket a day to see a wide variety of films playing at their local multiplex, subscribers now only have the option to pay $9.95 a month for just three movie tickets. The deal was made even worse when customers realized last weekend that MoviePass was limiting the selection of movies available to just two options. But today, they're doing something even more questionable and despicable.
Last night, some users found out that even though they had canceled their MoviePass subscription, they had been automatically opted in to this new subscription plan, and that "choice" to opt in trumped any cancellation they might have previously confirmed. This is shady as hell.
If you're a MoviePass user and you canceled your plan sometime between your last billing cycle and the upcoming one, then you might have gotten this e-mail (via Business Insider):
Heads up to anyone who canceled MoviePass.

SURPRISE: You didn't cancel MoviePass, and now you're automatically enrolled in the "new" plan. 🎉 @MoviePass is that even legal?? Y'all shady af now. pic.twitter.com/kPMETe8xdw

— Courtney Guth (@Courtney_Guth) August 13, 2018
The only problem is that some customers didn't even enroll in this new plan to begin with:
It says at the very beginning "We've received your confirmation for your new MoviePass plan."

I never enrolled in a new MoviePass plan and canceled on 8/5 with email confirmation. There was no decision made on my part.

I had to go back into the app and cancel AGAIN.

— Courtney Guth (@Courtney_Guth) August 13, 2018
But the most shady part of all this is that if you want to go into the app to double check your cancellation, then you have to accept the mere concept that there's only one new plan, even if you already canceled. And apparently acknowledging that plan is enough to allow them to subscribe you to the new plan that takes effect tomorrow.
This is what happened to yours truly last night, and it appears I'm not the only one. Myself and many others found that if you attempt to cancel your subscription again, then you get this error message:
I finally canceled my @Moviepass subscription yesterday and today I got this email. Then I tried to quit AGAIN, and it wouldn't let me. What kind of Twilight Zone shit is this pic.twitter.com/1lv1OG2we3

— Chase Mitchell (@ChaseMit) August 13, 2018
At every single turn, it appears MoviePass is making decisions to upset their customer base and still ensure that they're getting as much money out of them as they can in order to keep the subscription service on life support as long as they can. Previously, their decisions were relegated to making their service worse, but now they're being downright reprehensible by tricking fleeing customers into paying for another month of service.
Even this morning, trying to cancel my own account results in the error message above. You can bet customers aren't going to be happy about this, and it's going to be yet another nail in the coffin of MoviePass. At this point, I almost want to let them keep my $10 (which is surely what MoviePass is counting on), because wasting any additional energy trying to fight with this sinking ship of a business is only going to give me further headaches. Plus, they clearly need it more than I do if these are the lengths they're willing to go to hold onto as much money as they can.
Instead, I'll just take my AMC Stubs A-List subscription and see whatever movie I want, whenever I want, and MoviePass can continue to die their slow death. People have been wondering why we've been so hard on MoviePass recently. Here you go. Good riddance, you jagaloons.
Update: If you bought a one-year MoviePass subscription through Costco, it seems the store will refund you. Exstreamist reports:
I checked with Costco support to see if they'd accept a return of the one-year prepaid subscription, and they said yes, they would be accepting returns of the service. I asked for some more details on the specifics of the return, and the representative simply stated that the Moviepass subscription fell within their standard return policy, and would be honored in this case.
It's a shame that Costco may have to clean up MoviePass' mess for a lot of people, but this is why they're considered one of the most trusted companies in the United States.