'Blackcoat's Daughter' Director Oz Perkins To Helm 'Gretel And Hansel'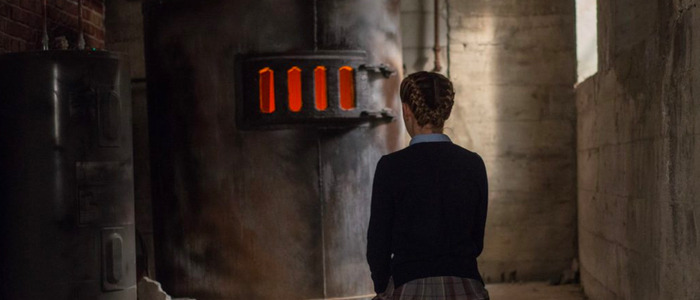 Oz Perkins, who helmed the disturbing slow-burn horror films The Blackcoat's Daughter and I Am the Pretty Thing That Lives in the House, is setting his sights on a fairy tale. The filmmaker will direct Gretel and Hansel, an adaptation of the famous Brothers Grimm fable about a pair of siblings dealing with a very hungry witch.
You know the story of Hansel and Gretel, right? A pair of siblings get dumped in the woods because their wicked stepmother doesn't want to feed them anymore. The duo leave a trail of breadcrumbs as they travel through the woods, but some a**hole birds swoop in and eat the crumbs, leaving brother and sister hopelessly lost. Things are looking bleak, but then Hansel and Gretel find a house made of gingerbread. The starving siblings begin snacking on the house, which turns out to be a bad idea, because the home just happens to belong to a witch. The witch takes the children captive, and plans on eating them, because that's what witches who live in gingerbread houses do.
There's a lot of room for horror here – a witch who wants to chow down on some kidnapped kids is inherently disturbing. And Oz Perkins is going to take that creepy material and work his magic. Collider has the news about Perkins helming the film, which is titled Gretel and Hansel. The script, by Rob Hayes, is described as "a faithful version of the Brothers Grimm fairy tale about a pair of siblings kidnapped by a terrifying witch who lives in the surrounding woods."
Hansel and Gretel has been adapted to the big screen before, most recently in 2013, with Hansel and Gretel: Witch Hunters – a movie I actually like, even though I acknowledge it's very, very silly. Perkins' take on the material is likely to be unique, though. The director has already made a name for himself in the horror community, thanks to his two previous films – The Blackcoat's Daughter and I Am the Pretty Thing That Lives in the House. Both of those titles are not your typical horror movies. They don't rely on jump-scares and they're low on gore. Instead, they're slow-burn movies that make great use of psychological terror, building towards haunting conclusions.
While I'd be a lot more excited at the prospect of Perkins directing an original idea, I have a feeling he can do something memorable with this material. Perkins also has an adaptation of the horror novel A Head Full of Ghosts in the works, but Collider says that production on Gretel and Hansel is set to begin this fall, indicating A Head Full of Ghosts is on the back-burner for now.