'The Happytime Murders' Red Band Trailer Touts More Wildly Inappropriate Puppet Antics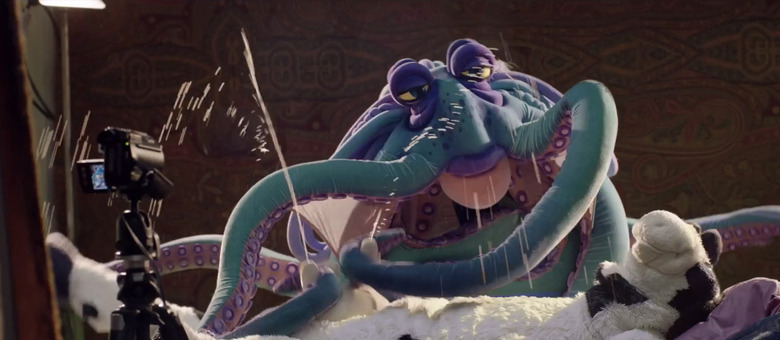 Since the first red band trailer exploded on the big screen before Deadpool 2 earlier this summer, we haven't seen much more footage from the raunchy puppet comedy The Happytime Murders. However, a new red band trailer has arrived to showcase some more of the inappropriate humor coming in the film from Jim Henson's son, Brian Henson. The only problem is that most of it just seems to be more footage from the scenes we glimpsed in the first trailer.
The Happytime Murders Red Band Trailer
There are some new snippets to be seen from The Happytime Murders in this shorter red band trailer, but it's nothing that gives us a better idea of the quality. There's a strange shot of an octopus milking a cow on camera and a puppet pulling a Basic Instinct reveal, but most of the footage is stuff we've already seen.
In fact, most of the focus is put on Twitter reactions from those in advance screenings of the movie. But even some of those seem to be reactions to the trailer or in anticipation of the movie rather than a social media reaction to seeing the entire movie. The marketing campaign continues to be hellbent on telling us how insane and inappropriate this movie will be without showing us much more of the movie itself. That's a little worrisome for a movie that comes out in a couple weeks.
Then again, there's always a chance that STX Entertainment knows they've already got audiences on the hook for the movie with what they've shown and they don't want to spoil anymore of the jokes. After all, you don't want to go into a comedy having already seen the best bits, so hopefully the movie hasn't already blown their full load of silly string before it hits theaters.
The human side of the cast features Melissa McCarthy, Maya Rudolph, Joel McHale, and Elizabeth Banks alongside some truly raunchy puppets. Maybe there will be some cameos for us to enjoy when we see the full movie later this month.
No Sesame. All Street. The Happytime Murders is a filthy comedy set in the underbelly of Los Angeles where puppets and humans coexist. Two clashing detectives with a shared secret, one human (Melissa McCarthy) and one puppet, are forced to work together again to solve the brutal murders of the former cast of a beloved classic puppet television show.
The Happytime Murders arrives on August 24, 2018. Check out our set visit report right here.