Is This YouTube Ad For 'The Nun' Smart Marketing, Irresponsible, Or Both? [Updated]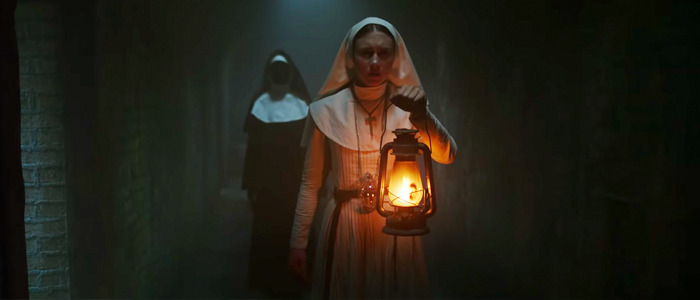 Update: YouTube has officially pulled the ad for violating its "shocking content" policy. We've added their response below.
I vividly remember being in my college dorm room and being tricked into watching a viral video of a car cruising through a lush, green countryside. Soft flute music plays in the background, and a few seconds in, a guy in zombie makeup bursts up in front of the camera and screams. That was in 2006, just a year after YouTube launched, and now a new ad for Warner Bros.' upcoming horror film The Nun is using a similar technique to promote the movie.
Is using a jump scare tactic like this irresponsible of the studio, a case of savvy marketing, or maybe a bit of both? Check out the ad and judge for yourselves below.
Someone uploaded the ad in question to YouTube, though it's important to note that the text explaining there's a "jumpscare warning" that appears in this thumbnail image isn't included at the start of the real ad. Check it out:
The Nun YouTube Ad
You can probably see why some people might be upset about that – especially parents of kids who rely on YouTube as a primary source of entertainment. It's understandable that parents would be worried about their young children seeing an ad like this pop up before an entirely separate type of video.
As Polygon points out, this advertising tactic may even technically violate YouTube's terms for ads, because there's a section in their rules that specifically ban "promotions that are likely to shock or scare". The examples listed under that heading include things like "promotions that suggest you may be in danger, be infected with a disease, or be the victim of a conspiracy," but The Nun campaign doesn't do any of those. /Film has reached out to Warner Bros. for comment, and we'll updated this article if they respond.
On the other hand, this is kind of a brilliant marketing strategy. Even if it generates a little bit of controversy, as it already has, people are talking about The Nun – that's obviously an essential goal for any marketing campaign. Studios are always looking for any edge they can get when it comes to one-upping their competition, so it wouldn't surprise me if a conversation was had in a WB boardroom about how this ad could generate this type of response, and the decision was made to go ahead with it anyway. Things can sometimes get a little murky when you're trying to get butts in seats.
Update: YouTube has officially removed this ad from its pre-roll placement.
Appreciate you bringing this to our attention! This ad violates our shocking content policy and it's no longer running as an ad. More info here: https://t.co/dOUocjUevh

— TeamYouTube (@TeamYouTube) August 14, 2018
In response, Warner Bros. has taken to Twitter with a similar ad. But there's a key difference here: this time, there's no sound:
Evil awaits. #TheNun pic.twitter.com/wM4BfFYGFb

— The Nun (@thenunmovie) August 16, 2018
/Film's managing editor Jacob Hall saw about ten minutes of footage of The Nun at this year's San Diego Comic-Con, and he was extremely impressed. It sounds as if director Corin Hardy (and producer James Wan, who also directed some second unit scenes) has carved out his own corner of The Conjuring universe for this prequel, and we're excited to see how the whole thing comes together. Taissa Farmiga, Demián Bichir, Charlotte Hope, Ingrid Bisu, Jonas Bloquet, and Bonnie Aarons make up the movie's core cast.
Here's the teaser trailer:
And here's the movie's official synopsis:
When a young nun at a cloistered abbey in Romania takes her own life, a priest with a haunted past and a novitiate on the threshold of her final vows are sent by the Vatican to investigate. Together they uncover the order's unholy secret.  Risking not only their lives but their faith and their very souls, they confront a malevolent force in the form of the same demonic nun that first terrorized audiences in The Conjuring 2, as the abbey becomes a horrific battleground between the living and the damned.
The Nun hits theaters on September 7, 2018.