Contest: Win A 'BlacKkKlansman' Prize Pack, Including A Poster Signed By Spike Lee And The Cast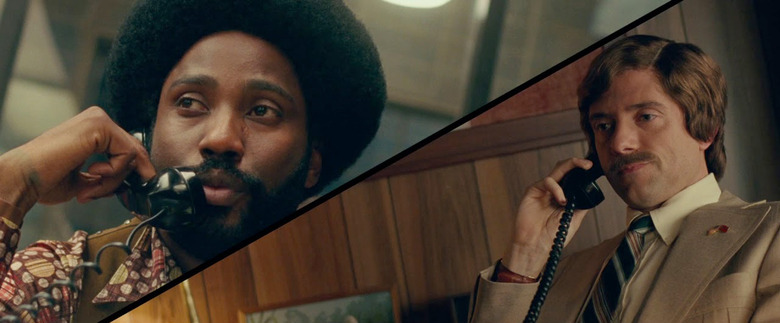 We may receive a commission on purchases made from links.
BlacKkKlansman opened this past weekend, and even though it didn't debut in one of the top spots on the box office charts, it earned a respectable $10.8 million from just over 1,500 theaters. More importantly though, it's been raking in all sorts of critical acclaim with a 97% on Rotten Tomatoes, not to mention an A- from CinemaScore.
If you haven't seen BlacKkKlansman yet, now is the time to go out of your way to see Spike Lee's most successful movie in over a decade. And once you see the movie (or if you already have), then you might be interested in a little BlacKkKlansman contest we're holding that includes a poster signed by director Spike Lee and a few members of the cast. Get details below.
/Film's BlacKkKlansman Contest
Here's what you'll get from our BlacKkKlansman contest if you win:
Copy of Black Klansman, the book written by real life detective Ron Stallworth
Digital download of the film's soundtrack
BlacKkKlansman movie poster signed by director Spike Lee, stars John David Washington, Topher Grace and Laura Harrier, and author Ron Stallworth
How to Win Our BlacKkKlansman Contest
If this prize pack sounds like something you'd like to have sent your way, here's how you win. Comment on this article (not our Facebook post of the article) to tell us both your favorite movie directed by Spike Lee and your favorite line from that movie. You must include both to be eligible for the prize pack. We'll pick a winner at random and will reach out to figure out where to send the prizes.
In the meantime, here's the trailer for BlacKkKlansman, in theaters now:
From visionary filmmaker Spike Lee comes the incredible true story of an American hero. It's the early 1970s, and Ron Stallworth (John David Washington) is the first African-American detective to serve in the Colorado Springs Police Department. Determined to make a name for himself, Stallworth bravely sets out on a dangerous mission: infiltrate and expose the Ku Klux Klan. The young detective soon recruits a more seasoned colleague, Flip Zimmerman (Adam Driver), into the undercover investigation of a lifetime. Together, they team up to take down the extremist hate group as the organization aims to sanitize its violent rhetoric to appeal to the mainstream.