Antoine Fuqua Meeting With Marvel Studios Soon To Discuss Potential Projects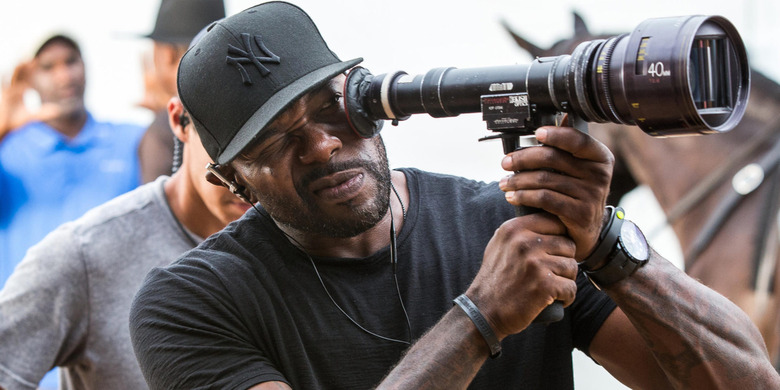 The future slate of Marvel Studios is mostly unclear. Right now, the only projects officially on the calendar are Captain Marvel in March of 2019, Avengers 4 a couple months later in May, and Spider-Man: Far From Home a couple months after that in July. But beyond that, fans are wondering what the future holds. One answer might lie in the director of The Equalizer.
Director Antoine Fuqua has been making the publicity rounds as The Equalizer 2 has been rolling into theaters around the world, and the filmmaker confirmed that he has an upcoming meeting with Marvel Studios boss man Kevin Feige to discuss the possibility of heading into comic book territory.
Hey U Guys spoke to Antoine Fuqua about whether he has any interest in directing a comic book movie, especially after the references to superheroes in The Equalizer 2, and here's what the filmmaker had to say:
"I've been approached about it...I'll probably take some meetings soon, talk to those guys about it[...]For me it has to be the right one, in the right situation because there's so much visual effects going on and – Where's the director in it all? I need to understand it because it's like management...they have a machine, they've got people, there's the design, the whole thing is sketched out[...]Is the director doing that? Or is it a hundred other people?
That's a fair concern for a filmmaker who likes to be in control of his own stories. After all, we know there's a decent amount figured out well in advance of shooting, especially when it comes to the special effects sequences. Clearly, Fuqua doesn't just want to be a gun for hire who has little to no influence on the larger set pieces and visual effects sequences of a comic book movie.
Considering how well filmmakers like Taika Waititi and Ryan Coogler have done in bringing their mark to the Marvel Cinematic Universe with movies like Thor: Ragnarok and Black Panther, there's like a place for Antoine Fuqua to have the kind of involvement he wants over at Marvel Studios, and that's exactly where he's heading for a meeting soon. But he's also apparently already turned down at least one comic book project:
"Sony asked me to do Morbius. I'm going to have a meeting with Kevin [Feige] soon...Just talking."
So it sounds like maybe Morbius the Living Vampire wasn't how Antoine Fuqua wanted to make his jump into comic book territory. Daniel Espinosa landed that job for the time being, and Jared Leto will take on the character, who hails from the Spider-Man universe.
Now the question is what can Antoine Fuqua do at Marvel Studios? The comic book movie studio likes to meet with filmmakers without having any preconceived notion of what they want them to work on. Often times, they like to get a vibe for what kind of movie a director wants to make and see if they have anything they're already interested in.
The one property that Antoine Fuqua might really be able to sink his teeth into, no pun intended, would be Blade. Since Marvel Studios has the rights to the character again, fans have been hoping for Marvel to bring the vampire hunter into the MCU. Of course, there's a whole library of characters Fuqua could have fun with, especially if Disney ends up with all of the Marvel characters currently in the hands of 20th Century Fox. We'll just have to be patient and see if Fuqua and Marvel end up working together.