'The Meg' Overperforms At The Box Office, Opens Larger Than 'Ready Player One' And 'Rampage'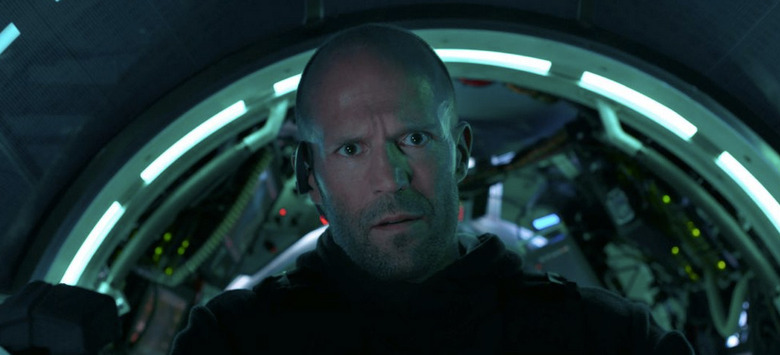 As the blockbuster summer of 2018 comes to an end, it appears audiences were hungry for Jason Statham and a giant prehistoric shark to give them some last minute thrills.
The Meg surprised box office experts by having a much larger opening weekend than projected. As of Wednesday last week, analysts were predicting The Meg would only rake in about $20 million domestically. But The Meg box office total ended up being over double that, so much that the movie opened larger than some of the more anticipated titles from earlier this year.Forbes reports The Meg has pulled down an estimated $44.5 million this weekend, and that includes an impressive $4.1 million haul from IMAX tickets alone. Sounds like MoviePass being down on Friday and keeping people from specifically seeing The Meg didn't hurt the Warner Bros. opener all that much, though it might have prevented the opening weekend from being even bigger.Exhibitor Relations points out that The Meg had such a surprisingly good opening weekend that it ended up surpassing other celebrated debuts like Ready Player One and Rampage from back in the spring and other summer hits like Ocean's 8 and The Equalizer 2. Sounds like a perfect storm of star power, a fun concept and perhaps name recognition from the fact that the movie is based on a popular series of novels by Steve Alten.
If the movie has legs, it could end up with $140 million domestic after having this kind of an opening weekend. But if it performs more along the lines of San Andreas, a movie that had a similar opening in 2015, it'll land something more like $127 million. Since the movie cost $150 million produce, the movie shouldn't have a problem turning a profit, especially when you take into account the stellar performance oversas.
The Meg landed another $97 million in international markets, including a massive $50.3 million from China. That's not surprising since the movie is basically a Chinese co-production, but that gives it an edge over some movies that open in the Chinese market.
Meanwhile, Variety reports Sony's horror flick Slender Man didn't have quite as commendable of a debut. The movie landed in fourth place with $11.3 million, but since it only cost $10 million to make, the studio certainly isn't upset with that kind of performance.
As for BlacKkKlansman, it opened in fifth place with $10.8 million, though it did that from only 1,500 locations. That's not a huge debut, but it's enough to give Spike Lee his best opening weekend in over 10 years. Plus, the film has been landing plenty of critical acclaim with a 97% on Rotten Tomatoes and an A- CinemaScore. The fact that MoviePass locked it out from being accessible from most theaters could have had a bit of an impact, but likely not enough to make a huge difference.
As for the fourth weekend opener, the family film Dog Days, it debuted with a pathetic $2.6 million, putting it in 12th place, opening below movies that have been out for a month or more.