Move Over, Porgs: Baby Nifflers Are Coming To 'Fantastic Beasts: The Crimes Of Grindelwald'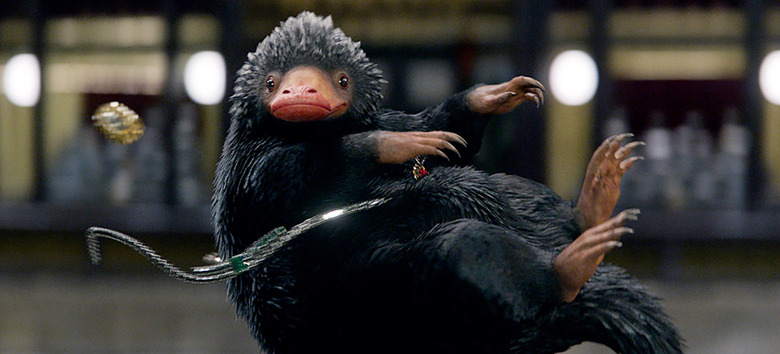 Star Wars: The Last Jedi introduced us to one of the most adorable creatures in pop culture with the little island-dwelling birds known as porgs. But when there's a franchise with the title Fantastic Beasts, the battle for cutest fantasy creature isn't an easy one, and that's especially true with the inclusion of baby Nifflers in this fall's Fantastic Beasts: The Crimes of Grindelwald. Get a first look at these cute little thieves below.
Baby Nifflers in Fantastic Beasts: The Crimes of Grindelwald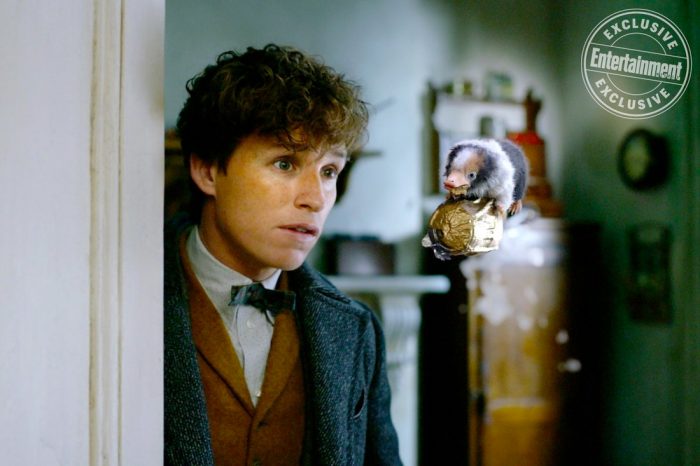 The Niffler was one of the more mischievous creatures from the magical suitcase of Newt Scamander (Eddie Redmayne). The little creatures are attracted to shiny objects, which makes them desirable for tracking down treasure. But it also makes them rather troublesome, as we saw in the first film when one of them ended up inside of jewelry shop, bringing some unwanted attention to the magizoologist.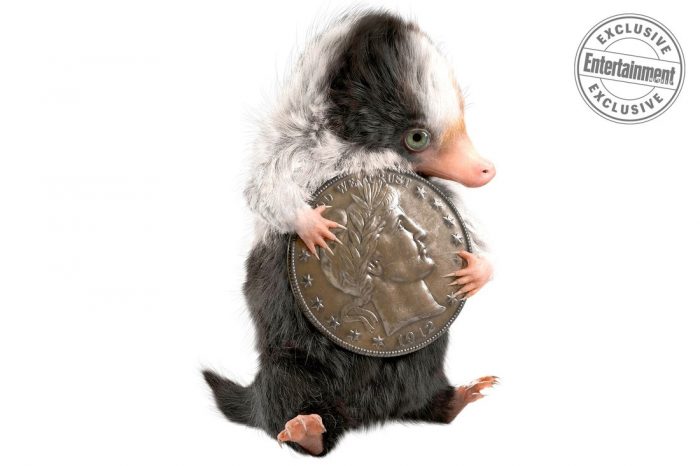 As you can see in the concept art and first look image above, the baby Nifflers are super adorable, and they're just as attracted to shiny objects as the full grown creatures, Plus, we get to see that there are varieties of Nifflers when it comes to the color of their fur. We'll likely see several more baby Nifflers in the movie since Entertainment Weekly says Newt has to deal with a litter of newborns that are "wreaking havoc."
The baby Nifflers aren't the only new creatures on the scene either. Other magical animals we'll discover include a Kelpie, described as some kind of underwater creatures that hails from Scotland which can be mounted and ridden. There's also a Leucrotta, a moose-like creature with a massive mouth, and an Augurey, an owl-like creature whose cry is believed to foretell death. Perhaps that will make some kind of ominous prediction about one of our wizarding world characters.
Directed by David Yates from a script by J.K. Rowling, Fantastic Beasts: The Crimes of Grindelwald also stars Jude Law, Katherine Waterston, Dan Fogler, Alison Sudol, Johnny Depp, Ezra Miller, Callum Turner, Claudia Kim, William Nadylam, Kevin Guthrie, Carmen Ejogo, and Poppy Corby-Tuech.
Here is the synopsis to Fantastic Beasts: The Crimes of Grindelwald:
At the end of the first film, the powerful Dark wizard Gellert Grindelwald (Johnny Depp) was captured by MACUSA (Magical Congress of the United States of America), with the help of Newt Scamander (Eddie Redmayne).  But, making good on his threat, Grindelwald escaped custody and has set about gathering followers, most unsuspecting of his true agenda: to raise pure-blood wizards up to rule over all non-magical beings.
In an effort to thwart Grindelwald's plans, Albus Dumbledore (Jude Law) enlists his former student Newt Scamander, who agrees to help, unaware of the dangers that lie ahead.  Lines are drawn as love and loyalty are tested, even among the truest friends and family, in an increasingly divided wizarding world.
Fantastic Beasts: The Crimes of Grindelwald opens November 16, 2018.